Tanzanian agri-tech startup wins the MEST Africa Challenge
Posted on : Monday , 5th October 2020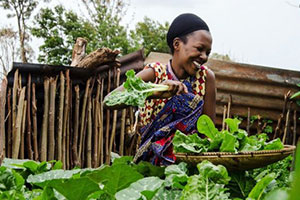 Kilimo Fresh an agri-tech startup from Tanzania was declared winner to the MEST Africa Challenge and awarded an equity investment of US$50,000. Kilimo Fresh is a B2B digital distributor in fresh produce made available to Supermarkets, institutions, restaurants, hotels, wholesalers and also export markets. This platform enables produce buyers and smallholder farmers to a market which is reliable and fair, helping buyers have direct access to farms fresh produce and quality at an affordable price and have it directly delivered to the given location.
This platform has given an online access to consumers to make direct purchases of fresh crop produce eradicating any space of food wastage and giving farmers a stable price.
Pan-African training programme, seed fund, incubator and hub MEST Africa ran the MEST Africa Challenge, where Kilimo Fresh won against different start-ups from Kenya, Ethiopia, Rwanda, Ivory Coast, Nigeria, Senegal, South Africa and Ghana. The journey for Kilimo Fresh started in 2015 when the co-founders Baraka Jeremiah and Justice Mangu passed from the university.
Jeremiah said, "We started farming because of our interest and cultivated crops like capsicums, watermelons and tomatoes and in Dar es Salaam sell it to wholesalers. At the beginning we were dissatisfied because we lacked market information, earned a low margin, and saw a lot of wastage in food and demand visibility because of which in 2018 we established Kilimo Fresh which would help us in solving this problem in Tanzania for other farmers".
"To a produce to what the farmer is paid the consumers are charged a higher price because the produces goes through a line a mediator. This problem expands where the farmer has a lot of their produce go to waste due to lack of storage space for a lengthy time period and market access."
In Tanzania around 40% of the produced food is lost before arriving to the market, because of lack of storage facilities, farming practices and no proper trading system.
Jeremiah mentioned, "Before 2021 of February our target is to raise US$200,000".
Dodoma and Tanzania are currently the two regions where the company operates with daily need supply of grains, vegetables and fruits. Expansion plans are in motion to Arusha and Zanzibar including in East African countries, especially Rwanda.
Source : www.businessdailyafrica.com