Kenya lays foundation to its self-sustaining egg programme
Posted on : Monday , 5th October 2020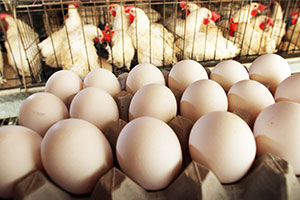 The governor of Kirinyaga county, Anne Waiguru, under the 'Wezesha Kirinyaga' ('Enable Kirinyaga') programme, have initiated a project which will have 32 community farmers produce a million eggs per month, which will have each farmer earn daily 1,000 Kenyan shillings. The project focuses on increasing the profitability and the agricultural productivity of the country, concentrating on the upliftment in the livelihood of the youth and women in Kenya.
"Kenya has to import around 10 million eggs every month from the bordering countries, as the country suffers a shortfall in the productions of eggs" quoted Anne Waiguru.
40,000 chicks in total were delivered as a result of this project in th e month of March. Where the chicks have now grown into layers and every week's egg collection comes around 100,000 eggs.
Governor Waiguru, at the Kirinyaga Agricultural Training Center (KATC) animal production unit at Kiaga said "The project by Wezesha poultry is designed to reduce the dependence on the traditional farming of cash crop and through this project through the youth and women of Kirinyaga improve their living conditions by acting as an alternate source of income to the family".
The storage facility in Kaiga, which stocks around 3,500 trays of eggs. They are then sent for branding and packaging then transported to the market. There is a huge potential for the project as there is still a great demand for eggs. A second phase has already been cooperated with an addition of more 42 groups, aiming at a production of 3 million eggs." Governor Waiguru said.
For this programme to be successful and cost effective the county government is making quality and affordable feed available to the farmers where the chicken feed is produced at KATC which enables to reduce cost and is certified with maintenance of international standards. Waiguruu said that the feed factory has manufactured 478 tonnes of feed is equivalent to 6,828 bags, along with which farmers are getting technical support from the officers from county's veterinary and livestock extension.