Africa: Lighting Up Africa - Bringing Renewable, Off-Grid Energy to Communities
Posted on : Thursday , 20th August 2020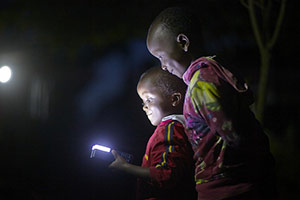 With a strong push for solar energy from the World Bank and the International Finance Corporation, life for thousands of Ghanaians is starting to change. The $220 million Ghana Energy and Development Access Project (GEDAP) is among the first Bank-financed programs to focus on comprehensive access to renewable energy through off-grid solar services and products.

GEDAP is also exemplary of a larger push for inclusivity--the project included five pilot mini-grids that converted solar energy to electricity for remote communities in islands in the Volta Lake and the Volta River. These five pilot mini grids provide 24/7 electricity to about 10,000 beneficiaries for the first time, allowing these fishing communities to use electricity to improve their livelihoods.

"Solar technology and renewable energy are at the heart of the climate agenda," said World Bank Senior Energy Specialist David Vilar, who leads the infrastructure programs in Ghana, Liberia, and Sierra Leone. "Solar energy is renewable and carbon-free; it has unquantifiable potential to decrease greenhouse gas emissions. Mini grids have the potential to play a significant role in efforts to achieve universal energy access."

Poor households were able to afford mini grids because the project included subsidies to help make energy more affordable and supported access to financing with local financiers, including rural banks. The International Development Association (IDA) is enabling technical assistance to help make more mini grids financially sustainable for homes and communities with the support in regulation from the Ministry of Energy, Energy Commission and the Public Utility Regulatory Commission.

GEDAP has taken extra measures to ensure that the legal and regulatory framework was established for a nascent renewable energy sector. The enactment of the Renewable Energy Law supported the activities of the Bank and other donors in this sector. The project also helps regional policy makers as they address ongoing barriers to a regional market for stand-alone solar systems. These steps are essential to reduce energy poverty in the region and develop scalable solutions.