Drivelectric Kenya Geares Up For Driving of Electric Vehicle in Kenya
Posted on : Monday , 20th July 2020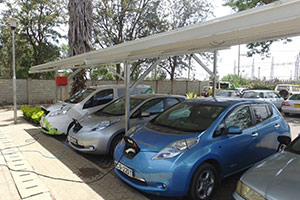 A subsidiary of Knights Energy Kenya, Drivelectric Kenya, is offering Kenyans a platform to switch to electromobility.

Driveelectric Kenya's set of services is tailored to take away the risks (both financial and technological) for its customers, who like in most parts of the world are new to the world of electric vehicles.

Driveelectric caters EV Consultancy, fleet analysis services, charging station installation services, and also provides electric vehicle leasing. On the tech risks, Driveelectric installs, operates, and maintains the charging stations, taking away the risks from property owners.

Pursuing with an EV lease goes a long way in assuring consumers and fleet operators that they won't be left grounded with a "dead battery" after a couple of years. Even though studies have shown EV batteries can pretty much outlast the life of the vehicle, and newer EV models are now getting insane battery warranties like Toyota's new 1 million km battery warranty on the Lexus UX300e.

Getting people to switch in the long term will always come down to the money, and here at CleanTechnica we love just how the TCO calculations across various markets show how EVs rock! Now we can add some real data from an African context.

Data is the new gold, so it is good to see Driveelectric Kenya showcasing just how satisfying it is to drive EVs in Kenya. Drivelectric did a study over a 12-month period on the costs to drive a typical ICE vehicle in Kenya vs an EV. Although this data uses information from petrol and electricity costs from the time the study was borne out, it is still representative of the current costs.

Drivelectric used a 1300 cc Nissan AD Station Wagon and a 2012 24 kWh Nissan Leaf, in the recent studies. They used a consumption of about 180 Wh per km for the Nissan Leaf. The average cost of electricity throughout the year was ksh20.91/kWh ($0.21/kWh) and the average price of petrol was ksh106 ($1.06). The mileage was obtained by taking the statistical statements on mileage from the geosat website, a tracker company. Office petty cash books were also used to get the money spent on the cars over the year on "fueling" costs. Data was also correlated with the fuel prices over the course of the year from data published by the Energy and Petroleum Regulatory Authority of Kenya, as well as Kenya Power, for the electricity tariffs.

With the Nissan Leaf not demanding much maintenance in the year of the study as compared with the ICE Nissan AD, the data will look even better when one looks at the total costs including maintenance and insurance. The savings from the fuel costs alone however, clearly show how durable the value proposition is for going electric in Kenya. It's really good and also profitable to be driving on all those very clean electrons with 93% of Kenya's electricity coming from renewable energy sources.