Germany invests 352.5 million Euros into Ethiopian infrastructural projects
Posted on : Monday , 23rd December 2019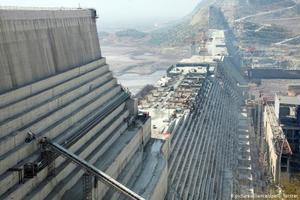 An ambitious project to provide full water, sanitation and electricity access to all the citizens by the year 2025 has been started The Government of Ethiopia. As announced by Sileshi Bekele (PhD), Minister Water Irrigation and Electricity in Addis Ababa, Ethiopia. He said, "We are anticipating full access of water and sanitation by 2025. Urban water and sanitation system need to be taken into account and open defecation free country has to be created and all these has to be achieved by 2025,".
Ethiopia, by the year 2050 will be one of the top ten populous nations in the world, placed alongside countries such as, Nigeria, Democratic Republic of Congo and Bangladesh.
Ethiopia now plans to use the newer technology and abandon traditional systems, in an effort to meet the 17 Sustainable Development Goals, which replaced the eight Millennium Development Goals, of the UN.
The Government of Germany in an effort to support Ethiopia's recently launched Home-grown Economic Reform programme, has committed 352.5 million Euros. At a bilateral meeting between the German and Ethiopian governments Ahmed Shide, Minister of Finance of the Federal Democratic Republic of Ethiopia, and Dr. Gerd Mueller, Minister for Economic Cooperation and Development of the Federal Republic of Germany, signed a joint letter of intent. In its corresponding press statement, the German Embassy in Addis Ababa stated that Germany aims to support the Homegrown Economic Reform Agenda of the Ethiopian government. the statement went on to say,"During this year (2019) Germany intends to commit a total of 352.5 million Euro for the above mentioned areas,". The letter of intent lays the foundation of the new reform partnership between Germany and Ethiopia. Dr. Abiy Ahmed, Prime Minister of the Federal Democratic Republic of Ethiopia witnessed the signing ceremony.