KENYA INTERNATIONAL TRADE EXHIBITION OPEN TODAY AT KICC, NAIROBI
Posted on : Thursday , 1st August 2019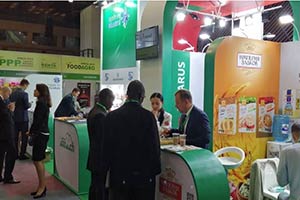 22nd KENYA INTERNATIONAL TRADE EXHIBITION AFRICA (KITE), Kenya's premier business event for industry and trade was inaugurated today in Nairobi at the Kenyatta International Convention Centre (KICC). Opened by Mr. Roy Otieno, Ministry of Industry, Trade and Cooperatives, Government of Kenya, the event will run for 3 days from the 01st to 03rd August 2019. Co-located with the event are the specialized 22nd PPPexpo (Plastics, Printing and Packaging), the 22nd Foodagro (Food and Agriculture) and 21st Indusmach (Industrial Machinery, Tools and Hardware) Kenya 2019 which introduce top products, equipment and machinery presented by exhibitors from over 30 countries. This year, also showcased is the inaugural edition of the Fashexpo (Textiles, Garment, Clothing, Footwear and Accessories).
Also present at the opening ceremony were High Commissioner of Sri Lanka H.E. Sunil De Silva, High Commissioner of Nigeria H.E. Sheidu Omeiza Momoh, Chargé d'Affaires a.i. of Russia H.E. Alexey Balashov, High Commissioner of Sierra Leone H.E. Mr. Peter Joseph Francis, Mr. Thanit Ngansampantrit, Minister Counsellor (Commercial), Embassy of Thailand, Mr. Edgar Tomas Q. Auxilian - Minister and Consul General, Embassy of Philippines, Ms. Marisa Kollenberg, Economic and Trade Department, Embassy of Germany, Mr. Enrique Alvarez, Market Analyst, Embassy of Spain, Mr. Jacobo Durán, International Trade - Investments Advisor, Embassy of Spain, Mr. Mohammad Javad Emamian, Head of the Economic Section, Embassy of Iran, Mr. Sergei Kalechits, Deputy Chairman, National Bank of the Republic of Belarus and Mr. Aleksei Lesnoi, Head of the Department, International Cooperation of the National Bank of the Republic of Belarus.


As an engaging and premier exhibition which has a proven track record of successful previous editions, the event is bigger and better this year. Countries dominant this year are Turkey, Germany, Belarus and India with several leading international brands looking to carve their presence in the East African market. The event is headlined by the pavilion participation of companies from Turkey and Germany. Participating under the Turkish pavilion are industry leaders like Baykar Tekstil San. Ve Tic. A.S., Eskin Ithalat Ihracat Insaat Ve Gida San. Tic. A.S. , Adal Pano, Smg, Pensan, Kanoff Diş Cephe Kaplama Sistemleri, Herevin, Tmg Power, Astas Tekstil San. Ve Tic. Ltd. Sti, Ümit İnşaat Yat San Tic Ltd Şti., Yusuf Carpets, Alpkim, Apack Packaging Technologies, P Grup Danişmanlik Reklam İletişim Ve Tek.Hiz.Ltd.Şti., Pesco Termo, Sevinchan Tekstil Sanayi Ve Ticaret Ltd. Sti., Erk Pazarlama Ve Giyim San. Tic. A.S. and Br Magazacilik Ticaret A.S. Major companies participating under the German pavilion include Barth Gmbh, Durum, Rochling and Schreyer Tool Grinding Machines. Among others, international companies like Assomac Machines Ltd., Pep-Cee Pack Industries and Parasnath Industries (India), Orion Toys (Ukraine), Woda Metal Industry Plc (Ethiopia), Century FMCG FZC (UAE) are some of the market leaders in their respective industries who are looking for importers, distributers and marketers for their products and brands in Kenya and East Africa.


As one of the major access points in Africa which relies on the huge volume of imports in the country for its own consumption to cater to over 40 million consumers the country is a key supplier to the neighbouring landlocked regions as well. Kenya's market is poised for considerable expansion in the coming years, boosted by consistent GDP growth, a growing population with increased purchasing power and the development of new businesses and ecommerce portals. Last year, the country imported goods valued at $200 million and re-exported goods worth $520 million. Kenya's growth revived in the last five years reaching 5.7% in 2018 placing the country as one of the fastest growing economies in Sub-Saharan Africa.

The 22nd edition of the event has attracted a number of the industry's biggest names including experts, stake-holders, directors and other high profile decision-makers that makes it the ideal entry-way into the African economy for interested investors, manufacturers and suppliers. KITE remains a major hub for business transactions and development in Africa, annually due to its proven track record in the region. The event continues to bring the newest and most innovative products from around the world, directly to Africa.
Visit: https://www.expogr.com/expokenya/index.php for more information or contact:
Trevor Daniels
Media Manager
KITE ( East Africa )
Email: feedback@expogr.com
Int'l: +971 43 050755 | Kenya: +254 706 129 142 / +254 773 594 021