KURA building footbridges at Sh880 million aimed at public safety
Posted on : Thursday , 19th April 2018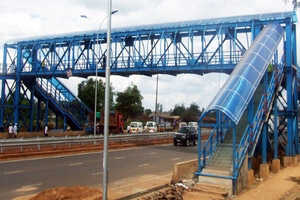 The newly upgraded Outer Ring Road in Eastlands will now boast of 11 footbridges the construction of which is currently underway
KURA chief corporate communication officer John Cheboi yesterday said the Chinese firm Sinohydro Tianjin Engineering Limited will construct the footbridges at a total cost of Sh880 million.
The company has started putting up the footbridge at Baba Ndogo area and sources said that the process will continue until all are finished. KURA is also taking into consideration the points where the number of people crossing is highest and the strategic points to build foundations.
Kura urged pedestrians to be patient and let the authority complete work. Residents had earlier protested the lack of footbridges that posed a risk to their lives as they used the busy raod.
The 11 footbridges will be built all along the road from Taj Mall on North Airport Road to GSU headquarters in Ruaraka.
Last week, Embakasi West MP George Theuri requested the National Assembly's Transport and Public Works committee to set aside a budget for 10 footbridges and six underpasses. He cited Umoja's Mutindwa area, Donholm and Taj Mall where vehicles have struck an killed several pedestrians.
In a related note, plans to commission the 13 kilometer Outer Ring Road is still set on July 14, the construction of which began in January 2015.