Babyl's AI Inspired Healthcare now in Rwanda
Posted on : Wednesday , 18th April 2018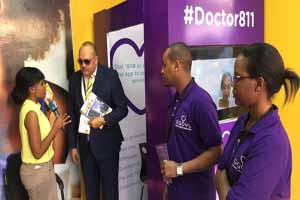 Babyl Rwanda, an advanced medicinal services supplier has been gaining good ground in Rwanda of late.
Headquartered in London, Babyl expects to bring affordable and accessible healthcare services to all Rwandans. They hope to do this by combining the medical expertise of professionals and the ever-increasing computing power of modern day machines.
Dr. Shivon Byamukama, the deputy CEO of Babyl explained that Babyl utilizes a combination of artificial intelligence, machine learning and doctors and nurses to provide accurate medical consultation to anyone with a mobile device.
Rwanda also has a lot of its populace utilizing feature phones for which Babyl have built up a USSD variant of the application. Anybody may dial *811#, and enlist for the stage utilizing their National ID – which is joined to their sim card.
The identity of the patient remains an important step, so that the operators know that the right person is being treated. The patient may then book an appointment with a Babyl doctor for further treatment. Confirmation for this is received via SMS.
It requires a long measure of time and money for patients , particularly in the interiors to get to a medical facility and Babyl plans to counter this issue by using new technologies and innovation as they can act as significant enablers in the process.
Babyl have been operating in Rwanda for one year and has gained an incredible following, with over 600,000 registrations and 100,000 already recorded.
The company continues to develop at an impressive rate with a plan to put their AI in call centers, designated health posts and health centers in place. The use of these health centers will provide its users with the same medical recommendations provided by expert doctors. This move is also expected to reduce the work-load of Rwanda's hospitals significantly.
Babyl is also aiming to be compatible with local healthcare scheme and are in talks with RSSB, the biggest health insurer in Rwanda, to provide access to their service for all of the affiliates on both Mutuelle and RAMA schemes.
Dr. Shivon Byamukama uncovered that Babyl's choice to convey this innovation to Rwanda initially was motivated by the Rwandan government's objective to make Rwanda, East Africa's focal point for digital services and the presence of universal healthcare in the nation. She also revealed that Babyl intends to expand into 6 different countries in the following year.
She concluded saying, "We want to make healthcare accessible and affordable to everyone. Babyl is here to make a real difference in the lives of Rwandans' health care. Our service was first developed in the UK where we now work with the National Health Service and then came to Rwanda. It is high quality, cost effective and easy to use. Wherever you are, you can use a mobile device to speak to one of our medical professionals.
We use Rwandan doctors who speak Kinyarwanda, English and French, and they all have many years experience plus we offer them additional training. The world is going digital and healthcare needs to be democratized and revolutionized, so that with the help of machine learning and our AI chatbot, everyone on earth can access health care"