UNAIDS - Occupational Safety in Medical Sector of Prime Importance
Posted on : Thursday , 12th October 2017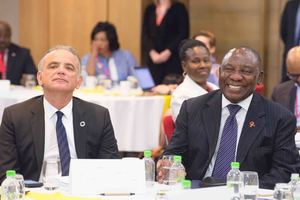 UNAIDS Country Director for Kenya, Janine Jacobi has called for reinforcements in the country's workforce to put an end to HIV as a major public health threat by 2030.
Jacobi also spoke about the stigma and discrimination that health workers, infected by HIV face today while also revealing the good work done by UNAIDS and their partners to solve this issue. Jacobi made these remarks at a forum to discuss occupational hazards, safety, and health of doctors and medical staff.
Jacobi stressed on the issue of a health safety program for doctors to curb issues like doctors leaving due to work-related stress.
She stated the importance of a workplace being in a safe environment, where workers should never fear for their personal safety.
"Kenya should implement and develop workplace safety and health programs in order to improve the welfare of doctors," she added.
Kenya Medical Practitioners, Pharmacists and Dentist Union Secretary-General, Fredrick Oluga backed Jacobi's stance by underlining the critical role occupational safety of medical practitioners plays in the Healthcare system and the need for improvements.
Oluga also expressed his disappointment in seeing this understanding disregarded or not prioritized, which has led to severe consequences for medical staff in the nation including a number of reported fatalities.
He further added by speaking about the lack of proper reporting channels and the discrimination being faced by medical staff seeking help. This continues to hinder doctors and medical staff from receiving the proper care that is required.