A Million More Homes To Gain Access To Power in Kenya and Uganda
Posted on : Thursday , 12th October 2017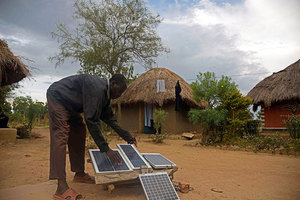 One million homes in Kenya and Uganda will gain access to electricity, thanks to a number of investors' raisings Sh 8 billion in collaboration with the UK government to finance a new solar project.
Kenya based solar kit reseller, M-KOPA Solar announced that the initial payments were made through Dutch Development Bank FMO (Sh 1.3 billion), UK Investment Agency CDC (Sh 2 billion), Norwegian government's Nor fund (Sh1.3 billion) and Sh900 million through Stanbic Bank.
Co-founder of M-KOPA, Chad Larson revealed that the customers will use their own assets as security for the solar kits purchase. This move will enable the poorer classes of society to access green power and to perform a variety of functions from charging phones to lighting homes.
The beneficiaries will make their payments through M-Pesa.
Stanbic and M-KOPA have also collaborated with the goal of attracting off-grid households with a per capita income of under Sh 200 a day, earning funds in the local currency in the process.
Another Sh2.5 billion of the debt came from Symbiotics, ResponsAbility, and Triodos Investment Management in US dollars.
Nick O'Donohoe, Chief Executive of the CDC stated that the investment was done with the hope of transforming lives across the region.
Kjell Roland, the CEO of Norfund also spoke about the importance of access to energy for the development of the nation and eradication of poverty. He further spoke about investments in clean energy projects, large scale power plants and also off grid solutions like M-KOPA, which remains a priority for Norfund.
Source : Business News Africa