Tanzanias Mining sector is booming
Posted on : Tuesday , 13th June 2017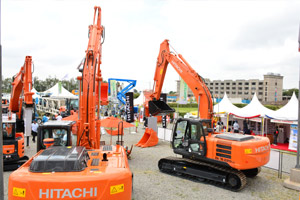 Tanzanias Mining sector is booming. Tanzania is endowed with vast quantities and types of resources whose extraction has been central to the country's economic growth. Mining is one of the leading sectors in Tanzania, with the value of mineral exports increasing each year. Leading minerals include gold, iron ore, nickel, copper, cobalt, silver, diamond, tanzanite, ruby, garnet, limestone, soda ash, gypsum, salt, phosphate, coal, uranium, gravel, sand and dimension stones. The United Kingdom is the largest foreign investor in Tanzania followed by India, China, Kenya, USA, Netherlands, South Africa, Canada, Germany and Oman.

Tanzania is the 4th largest gold producer in Africa after South Africa, Ghana and Mali. Gold production currently stands at roughly 40 tons a year, copper at 2980 tons, silver at 10 tons and diamond at 112670 carats. In total the mining sector contributes 2.8 percent to GDP each year but this could rise considerably in future years, with Business Monitor International (BMI) forecasting average annual growth in the sector of 7.7 percent between 2011 and 2015. BMI also predict a doubling in value of the sector between 2010 and 2015, from $640 million to $1.28 billion. The Government of Tanzania's plan is to have this sector contribute 10 percent of the GDP by 2025.
Mining and quarrying activities in Tanzania contributed 3.7% to its GDP with USD 1.78bn in 2014, compared to only USD 598m in 2009, representing a value increase of almost 200%. Based on Tanzania's Development Vision 2025 plan, the mining sector is expected to account for 10% of the GDP by that year.
Minerals export accounted for USD 1.37bn of the total value of Tanzania's export in 2015 (i.e. 24%) with gold representing more than 90% of the country's minerals export. The total value of Tanzania's diamonds export was USD 61.7m, while other minerals export value was USD 61.7m.
Before the arrival of multinationals in Tanzania, small-scale miners largely conducted the extraction of the minerals in the country. This year the World Bank announced that it is lending Tanzania $45 million to help Tanzania improve its mining sector, particularly among small-scale producers. The funds will help to create a viable domestic mining industry in poor, rural areas where unregulated artisanal and small-scale mining takes place. The financing will build on the success of the ongoing Sustainable Management of Mineral Resources Project (SMMRP), which has strengthened government capacity to manage the sector and improved the regulatory framework. Additionally it has expanded Tanzania's coverage by geological surveys and enhanced the social and environmental management framework for mining.
This clearly growing market of opportunities has been welcomed by the best global mining professionals, as they ready themselves for the return of Africa's Prime Mining and Machinery Expo.
This august Expo group will bring to you the 3rd edition of MineExpo Tanzania 2017, where more than 80 exhibitors from 18 countries will showcase their latest wares to thousands of trade buyers and decision makers from throughout the Middle East, Africa, and further afield
Taking place from August 10 to 12 at The Mlimani Conference Center, the annual three-day event will arrive with the biggest aftermarket brands on-board, spread over 15 product categories, Air Compressors, Drilling Equipment, Mineral Processing Plants and Equipments to name a few.
With more than 80 exhibitors combined, , Drilling Equipment and Mineral Processing Plants and Equipments , comprise the largest portion of MineExpo Tanzania, and features global stalwarts such as Perspex South Africa-South Africa, Geokatanga-South Africa, Cobra-France to name a few.
Some of the exhibitors shared their experience from last year's MineExpo...
Yang Liu Yantai Xinhai Mining Machinery Co. Ltd, China said "This is our first time at MINEXPO and we will come again because it attracts the biggest and broadest range of customers and also provides a great networking opportunity. It's a show that made us a lot of money and catapults sales. We are overjoyed with the response."
Mchatta HR. Director General - Surveying Equipment Service centre (EA) Ltd and South, Tanzania said "MINEXPO has resulted to be a great show. Benefits of exhibiting include being able to showcase the full experience that our company has to offer."
Anuar Abishev Sales Associate - IGT FZC, UAE said "I find the MINEXPO an excellent opportunity to meet qualified potential customers in a very short time. The booth leads allow us to make contact with interested parties in a very cost effective manner."
Connect with the right people for your company; this is just a beginning of greater opportunities. There is no better place to be for getting market players, decision makers and investors in one room, especially in this region that has huge potential.
MineExpo Tanzania will continue to deliver growth to your business and to East Africa for years to come. It will be a combination of attendees, speakers, exhibitors and hours of networking. So you can mark your calendars, as the 3th MineExpo 2017 Tanzania awaits.
Do not miss out on this unrivalled opportunity to network within industry peers and discuss and define the future of the East African Mine industry, be there to be part of the change.