Mobius Motors to Introduce Rugged Vehicle in Kenya
Posted on : Friday , 17th October 2014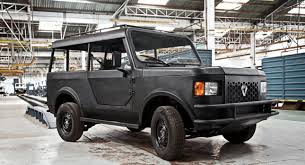 Mobius Motors is preparing to launch its first production vehicle in Kenya known as the Mobius II, a vehicle designed for the rugged roads of Africa.
The automaker is funding the initiative after raising financing from Richard Parsons and Ronald Lauder's Pan-African Investment Company (PIC). The investment will help Mobius complete its first production run of 50 Mobius II vehicles, and has scheduled production of the Mobius III for 2016.
"The Mobius vehicles will create a transport platform empowering local entrepreneurs and villagers," said Dana Reed, chief executive of PIC.
The Mobius II, which is assembled in Kenya, offers the functionality and durability of an off-road car. It's well-suited fit for travelling and carrying goods for long distances on bumpy dirt roads, according to the company. The vehicle costs 950,000 KES (approximately $10,000).
Source : automotive-fleet.com