Kenya: President Bans Maize Export till Drought Ends
Posted on : Saturday , 21st January 2017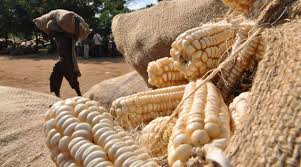 President Uhuru Kenyatta has banned exportation of maize until the ravaging drought ends.
The Head of State further ordered the arrest of unscrupulous traders, who were hoarding maize to make "abnormal" profits.
Addressing a rally in Isiolo Town, President Kenyatta, who was flanked by Sports Cabinet Secretary Hassan Wario and Governor Godana Doyo said the drought in the country was dire and that his government was doing "everything possible to address it."
He said no maize should leave the country until the food shortage ends.
"We want to ensure that we help those affected," he said.
The President regretted that some traders were hoarding maize in anticipation that the prices would rise.
The government through the National Cereals and Produce Board is currently buying maize at Sh3,000 per 90 kilogram bag in North Rift. Private millers are buying the cereal at between Sh2800 and Sh3200 per 90 kilogram bag.
"Action would be taken against traders found hoarding maize. You cannot take advantage of the needy to make profits," he warned.
The President, who was in Isiolo to spearhead voter registration campaign said the government is preparing supplementary budget to address the food deficit. He urged county governments to also realign their budgets to cater for the hungry.
He said the rain shortfall had also affected neighbouring Ethiopia, Uganda and Somalia.
Long term measures are to be taken to prevent Kenyans from suffering again due to drop of rains.
President Kenyatta said pastoralists should be assisted to access water and pasture for their livestock.
While the country produces about 33 million bags of maize annually, consumption stands at about 40 million bags.
The deficit is usually filled through imports and cross border trade.
The food situation is usually worsened by drought with arid and semi-arid counties where residents rely on livestock for their livelihood being the hardest hit.
Isiolo and neighbouring Marsabit, Mandera and Wajir counties are some of those hardest hit by drought.
In Marsabit, Governor Ukur Yatani says hundreds of thousands of animals of have died due to lack of rains since April last year.
Some 250,000 people in Marsabit are in need of food.
A supplementary budget, Mr Yatani said, has been prepared to raise money for relief supplies, livestock off take, provision of water and for peace building.
Mr Yatani's administration has also stopped recruitment of workers and cut recurrent expenditure by 50 per cent to get Sh450 million for food supplies to the needy in the next three months.
The governor said his government plans to buy livestock from pastoralists, slaughter and distribute meat to hunger stricken families.