Gibe III - Doubling Ethiopia's Power Generation Capacity
Posted on : Tuesday , 10th January 2017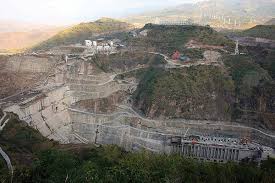 More than seven water and three wind power generators have been built in the effort the government exerted to meet the growing power demand in relation to the growing investment that has risen up with our country's growth.
Out of the power generating stations Gilgel Gibe I (with 180 mega watts), Tis Abay II (with 73 mega watts), Tekeze power generator (with 300 mega watts), Gilgel Gibe II (with 420 mega watts), Beles power generator (460 mega watts) and Fincha Ameri Neche power generator (with 97 mega watts), Adama wind power generator (with 51 mega watts) and Adama II wind power generator (with 153 mega watts). And the recently inaugurated Gibe III has enabled the power generation to reach 4400 mega watts.
Taking into account the fact that a demand for power that reaches 30 per cent every year due to the rapid development our country recorded for the past 15 years, the country is involved in building huge power generating projects to fulfill these demands.
As a result, the construction of projects that can generate more than 8,464 mega watts - the Grand Renaissance Dam (6000 megawatts), Koisha power generator (2160 megawatts), Genale Dawa III (254 megawatts), Repi waste (50 megawatts) is being currently undertaken. It is expected that these projects will be completed within the second Growth and Transformation Plan, and they will take our power generator capabilities to 12, 800 mega watts. In addition to fulfilling the country's power demand, this can also help the country gain foreign reserve by selling it to the neighboring countries.
This piece deals with Gibe III, which took our power generator capability to 4400 megawatts, and how it is encouraging flow of foreign investment.
The Economist magazine stated that the 8000 foot long Gilgel Gibe III Dam increases the country's power generating capability by double. It also recalled that Ethiopia has long sought to harness the power of the rivers that tumble from its highlands. Gibe III (the latest dam built along the Omo River) along with the Grand Ethiopian Renaissance Dam will turn Ethiopia into a renewable-energy exporter.
The Economist report also mentions that in addition to feeding the manufacturing sector with cheap power, the export earnings will help to plug Ethiopia's gaping current-account deficit. By regulating the Omo's flow in order to generate year-round electricity, Gibe III will save hundreds of thousands from flooding.
According to some activists, there was no flood in 2015. Mentioning that the one released in 2016 was in agreeable terms for agricultural works, the magazine also mentions that Gibe III alone is expected to generate as much electricity as currently produced by the whole of neighboring Kenya, which has enthusiastically signed up to buy some of its power.
The Economist recalled that Ethiopia's plans to use Gibe III besides electricity generation by supporting a vast irrigation complex to supply the Kuraz Sugar Development Project; and the report added that there are those that say as much as half of the river's flow could end up being used and bring huge impact.
The magazine made it known that the project was completed without halting the construction since it began in 2006. Quoting former Ethiopian Prime Minster Meles Zenawi, who died in 2012, "it will be finished at any cost. They don't want to see developed Africa; they want us to remain undeveloped and backward to serve their tourists as a museum". The report stated that faced with criticism the Ethiopian government has hardened its stance on the Gibe III dam and realized its completion.
The project will be remembered by Ethiopians for many years to come. And to add into this, it is necessary to look into the Dam within the prism of investment flow. Let us first mention the Netherlands, where more than 130 of its nationals have invested in our country.
We have recently heard from the country's Ambassador in Ethiopia that he is working to attract investors from the Netherlands to hugely involve in agriculture and in agro-processing investment. And it is obvious that the first demand of the investors will be electric power. Notwithstanding the projects that will be completed in the next three years, Gibe III has brought the answer to the current demands.
As Netherland's Ambassador to Ethiopia Bent Van Luthdreht told the local Medias, the involvement of her country's investors has increased. "Netherlands stand second in the world in terms of exporting agricultural goods", she added.
The big US Company PVH Corporation, which is known in the world for its Calvin Klein and Tommy Hilfiger brands, recently stated that its investment in Ethiopia will soon expand into production. And it is by taking into account the increased power supply beefed up by Gibe III.
The fact that CEO of PVH Corporation, Manny Chirico in his talk with CNN said that PVH is going by its plan in Ethiopia in the same vein confirming our country's status as a source and tower of renewable energy source. When the CEO says that the Company is installing machines and fulfilling the needed manpower in the shade it took in the Hawassa Industrial Park, he added that it will start production in the new European year.
The company is known for its brands such as Calvin Klein, Tommy Hilfiger, Izod and Speedo; and it distributes its products to more than 100 countries. It buys textiles from six African countries including Ethiopia, Kenya and Mauritius.
The benefits of Gibe III is much more than our investment.
The construction of sugar and sugar packet factories that are being undertaken in South Omo Zone relies on Gibe III. Those people that used to live their lives in separate manner have started to live together following the projects. The road project that tied the residents of Bench Maji and South Omo Zones has started to give services.
The development activities that were carried out in south Omo zone have huge role in creating job opportunities for the local communities. The fact that Gibe III increases the previously uneven power supply and access that used to be limited to 10 to 20 cities for years to 1000 cities annually is one of its many advantages.