Proposed Dangote cement factory in Kenya: production capacity revised to 3 million tonnes per year
Posted on : Wednesday , 3rd September 2014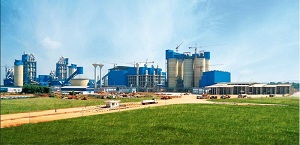 The proposed Dangote cement factory in Kenya is now set to produce double the initial planned capacity, indicating the rise in demand of cement in Kenya. The announcement, made in the company's trading update, could also fuel price wars for cement in Kenya.
The company said it was reviewing plans for Kenya, with a proposal of increasing the cement production capacity from 1.5 million tonnes per annum (MTA) to 3MTA.
The proposed Dangote cement factory in Kenya will be set up in Kitui County in the Eastern part of the country. The plant was expected initially to cost US$0.355bn but the cost could change following the revising of the production capacity expected from the plant. The expected price war could come in since the cement supply will now increase.
Although there is demand in Kenyan cement industry, the country has been supplying the market fully and the excess sold outside the country. The expected rise in demand in cement in Kenya is also being fueled by increased construction activity in the country, which has been due to increased demand for housing and facilities in the real estate markets.
Reports indicate that Kenya has a seven million tonnes supply capacity per year when demand is in tunes of 4 million per year. The plan to increase capacity for Dangote cement factory in Kenya has already caused opposition, with stakeholders noting that it could affect prices.
Bamburi cement, the largest cement producer in East Africa, has already outlined measures to benefit from the Kenya's ambitious infrastructure spending plans. The market demand for cement is increasing due to rise in infrastructure construction projects and real estate markets. Bamburi recorded a profit of US$26.2m in the first quarter of 2014, although profits slumped by a 28& margin.
Source : constructionreviewonline.com