Demand for construction equipment in Kenya to go up due to upcoming roads projects
Posted on : Wednesday , 3rd September 2014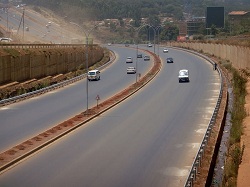 Many construction projects in Kenya, among them the government's commitment to construct 10, 000 km of additional network, is set to increase demand for construction equipment.
The Kenya Rural Roads Authority (Kerra) has also indicated that the roads network requires 540 excavators, 1080 rollers and 1440 movers to implement. This is good news for the suppliers and dealers of construction equipment in the region.
According to Kerra, some construction equipment cannot be found in the country, hence, importers and companies who lend equipment to contractors could benefit from the opportunity.
The government has already closed bids for the US$2.89bn road construction project (bid closed on August 29). Construction of initial 2000 km of roads is expected to kick off in December this year, and this will take $0.555bn. The latter is expected to consume around 60, 000 tonnes of cement. It is also expected to consume around 80 million litres of bitumen and 15, 000 tonnes of lime.
The road construction project is, in addition to other infrastructure and real estate development projects, expected to boost demand for cement, steel and iron. Already, Dangote, a Nigeria-based cement producer has indicated plans to double production capacity for its planned cement plant in Kenya.
Source : constructionreviewonline.com