Banana, avocado and citrus - boosting African exports
Posted on : Wednesday , 3rd September 2014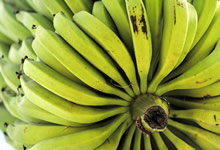 Banana, avocado and citrus farmers in Africa will now be able to export their produce to lucrative markets in Europe, the Middle East and South Africa, thanks to new research. "Previously, banana, citrus and avocado from many African countries were banned by several importing countries due to the presence of an invasive Asian fruit fly, known asBactrocera invadens," explains Dr Sunday Ekesi, a scientist with icipe. "Our studies have now convinced countries such as South Africa, Italy, Portugal, Spain and the Netherlands to remove their quarantine restrictions for banana, citrus and avocado from Côte d'Ivoire, Ghana, Kenya, Uganda, Mozambique, Tanzania and Senegal."
icipe and collaborating organisations conducted the research on banana in Kenya and Mozambique, to assess the infestation of B. invadens on the Cavendish dwarf variety during different ripening stages. Dr Ekesi notes that the findings, published in the Journal of Applied Entomology, showed mature green Cavendish dwarf banana to be a non-host stage of B. invadens, and should therefore not be subjected to quarantine restrictions. However, the researchers recommend that banana bunches with precociously ripened fingers and other damages be carefully inspected before export, as such damage could facilitate attack by B. invadens.
A cold disinfection treatment for B. invadens in citrus and avocado fruits has also been developed, enabling growers in sub-Saharan African countries infested by B. invadens to export avocado and citrus.