Kenyan consortium says wins tender to build 1 000 MW coal plant
Posted on : Wednesday , 3rd September 2014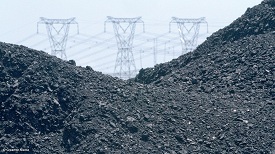 A consortium led by two Kenyan firms won a government tender to build a 1 000-MW, coal-fired power plant, company officials said on Tuesday, part of moves to satisfy rising demand for energy in East Africa's biggest economy.Kenya suffers from regular blackouts due to supply shortfalls and an aging grid, forcing most businesses and wealthy people to have stand-by generators. Businesses cite frequent power outages as a barrier to economic growth.Centum Investment and its local partner Gulf Energy have joined forces with foreign firms China Huadian Corporation Power Operation Company, Sichuan Electric Power Design and Consulting Company, and Sichuan No. 3 Power Construction Company.The new power plant, located in the Indian Ocean coastal town of Lamu, will cost about $2-billion, with $500-million funded by equity and the balance through debt, Centum said.
"The consortium has the proven capability to raise such funds and has already received significant interest from several major international lenders and export credit agencies," Centum said in a statement.
Kenya wants to expand electricity supply by 5 000 MW by 2017. It has an installed capacity of 1 664 MW, compared with peak demand of about 1 410 MW. Economic growth is expected to push power demand up to 15 000 MW by 2030.
Centum shares surged 5.8% to an intra-day high of 54.50 shillings after Tuesday's announcement, but they pared their gains to close unchanged from Monday's close of 51.50 shillings on the Nairobi Securities Exchange.
The Ministry of Energy and Petroleum was not immediately available to comment on the awarding of the contract.
The ministry has previously said the plant would take 30 months to construct when it floated the tender.
The winner of the bid was also expected to build a 400 kilovolt switch yard alongside the plant to help connect it to a power line that the state-run Kenya Electricity Transmission Company will build, the ministry has said.
Source : Engineering news