Lopes Urges Leaders to Rethink Agricultural Policies
Posted on : Monday , 28th July 2014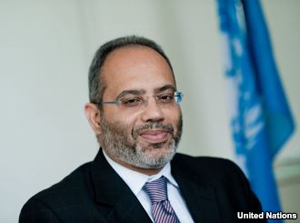 Malabo, Equatorial Guinea – At the 25th Ordinary Session of the African Union Executive Council Monday, Carlos Lopes, Executive Secretary of the Economic Commission for Africa urged member states to seriously rethink policies on agriculture, whose share of GDP, he warned, has been on the decline.

"The progress in agricultural productivity level has been uneven across countries, ranging from an increase of 325% in Nigeria to a decrease of about 40% in Zimbabwe," he said and pointed out that the varying initial conditions for different countries on economic, social and political environments make regional comparison on the agricultural productivity challenging. This, however, he said, "should not impede us from identifying which policies have made a significant difference."

He also noted that the significant reduction of income of the rural population has not been linked to a modern economy. "Their lives have been often circumscribed to self-sufficiency, resilience and poverty alleviation; keeping agriculture in its infant form does not allow for labor reallocation to other emerging economic activities," he said.

The Executive Secretary said there is an opportunity for Africa to step into when the Chinese and other Asian industries begin to look for a younger and more promising labor market. He said that when manufacturing powerhouses, such as Dongguan, Guangzhou, Huizhou, Jiangxi and Shenzhen evolve, "Africa should be on the look out for taking over."

"We will need to do it with a powerful combination of an agricultural revolution and industrialization. We should remember that not only we can do it, but because we are learning, we can do it better," he said.

Mr. Lopes underscored that as Africa records the largest population growth over the next 40 years, youth unemployment could be absorbed by smart agricultural policies, including agri-business and agro-industries. "They both have the capability to break the subsistence farming cycle," he said and added that through careful planning and execution, agri-business could link African farmers to regional economic value chains and be better connected to global ones.

Offering an example of change in this sector, he said that Homegrown Kenya, a large scale plantation that grows and processes a range of flowers and vegetables for export employs over 8,000 people. The company buys vegetable from local small holders for processing and export and has its own in-house farmer training and extension services, benefiting over 1000 small scale farmers. Despite unfavorable policy and infrastructure environments, he said that the initiative has an explicit value addition strategy.

However, he said that, "Examples such as Homegrown are not at a scale that will change the mega trend of an African lagging behind any other region on agricultural throughput."

Present at the Executive Council opening were Ahmed Ould Teguedi, Chairperson of the Executive Council; and Dr. Nkosazana Dlamini-Zuma, Chairperson of the African Union Commission, among other dignitaries.