Apex Steel signs up again as the Gold Sponsor of 19th BUILDEXPO AFRICA 2016
Posted on : Wednesday , 15th July 2015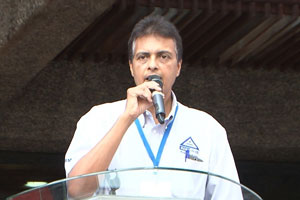 Expogroup is proud to welcome on board Apex Steel from Kenya, as the GOLD SPONSOR of the 19th BUILDEXPO AFRICA 2016.

Apex Steel Ltd is one of Kenya's largest integrated building and engineering material suppliers. Headquartered in Nairobi, Kenya, the company conducts business throughout the East and Central African regions. Engaged in the manufacturing of steel, and trading in a wide range of building materials, engineering steel, and general hardware, we are able to provide the engineering company, the construction company, the hardware shop or the home builder with a complete solution for all their building and home improvement needs.

Our focus as a group is to provide quality products through innovation and to deliver the best possible project solutions to meet the needs of our clients. Mr. Bharat Rao, Commercial Director of Apex Steel addressing the audience at Buildexpo Kenya.
" We invite all of you to come and experience the exciting world of Apex. We ar not a new name in the industry. It's been four decades since we have been contributing in steel. ', stated Bharat.
" Recent media reports speaks about the largest business growing rate in the country from the construction industry. We are not just here to manufacture steel. We are here to build a stronger nation, he added.