Big investors eying Kenya's energy sector meet Uhuru Kenyatta
Posted on : Tuesday , 14th July 2015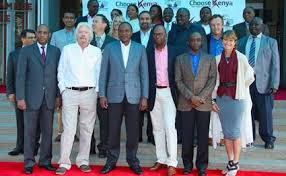 Kenya is a model investment destination in Africa, founder and CEO of the Virgin Group Sir Richard Branson said Saturday. Sir Branson made the remark when he led a group of investors in talks with President Uhuru Kenyatta at his Harambee House office. The meeting explored how to make the most of Kenya's abundant potential for green energy.
Other investors in the delegation included Jacqueline Novogratz (founder and CEO, Acumen), Chris Anderson (curator, TED Conference) Dipender Saluja (Capricorn Investments), Steve Jurvetson (Draper Fisher Jurvetson), Strive Masiyiwa (founder and chair, Econet Wireless), Jean Oelwang (CEO, Virgin Unite) and Zia Khan of the Rockefeller Foundation.
Sir Branson said the proposed renewable energy projects would benefit the 50 per cent Kenyans, who are yet to access electricity. "Investors in this initiative have chosen Kenya because the government is ready to listen to ideas and help implement them", he said.
He pointed out that the project would be rolled out in Kenya and Rwanda first before being implemented in other African countries. The two countries would serve as models. Sir Branson thanked the President for supporting the new venture.
The proposed investment in renewable energy aims at displacing a percentage of diesel generation in off-grid stations and raise the supply of clean energy for productive use in support of Vision 2030.
The projects are expected to open up new job opportunities and revenue for the government. President Kenyatta recently launched the Lake Turkana Wind Power Project. It is expected to be the largest such project Africa, generating 310 megawatts of electricity which is 14 per cent of the Kenya's current generation capacity.
Also present in Saturday's meeting were Safaricom CEO Bob Collymore, Kenya Private Sector Alliance CEO Carole Kariuki., KEPSA Chairman Dennis Awori, Athi River Mining Company CEO Pradeep Paunrana, Cabinet Secretaries Henry Rotich (acting Transport and Infrastructure) and Adan Mohamed (Industrialisation).
Source : investmentkenya.com