Kenya Boosts Wind Power in Its Renewable Energy Mix
Posted on : Friday , 15th August 2014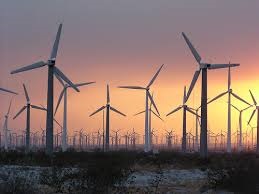 Nairobi — Kenya is set to gain more wind farms as the East African country moves to increase and diversify its clean energy resources.
Nairobi-based company Bluesea Energy Ltd has announced it will begin producing 40 megawatts (MW) in the second half of 2015 at its flagship wind power plant in Meru, expanding the renewable energy mix of a country that has previously relied on hydro and geothermal energy.
"We are moving away from traditional methods of generating power such as thermal, to clean methods of producing the same using our wind resource, which is more innovative and cuts carbon emissions," the company's chairman, David Ikiara, said in a phone interview.
Ikiara said the new plant would generate employment opportunities for young people.
"This will also teach communities, especially the youth, about innovative, non-traditional ways of generating power," he added.
The company has applied to the Energy Regulatory Commission (ERC) for a generation license for its first wind farm in Meru, central Kenya, with a view to selling power to the national grid.
Bluesea announced in 2011 that it would invest $100 million to establish three wind-power plants in Meru and neighbouring Isiolo district, and in the Lambwe Valley in southern Kenya, producing between 7 MW and 60 MW.
Meru will be the first of these to become operational, and construction on the other two plants is scheduled to start later next year. Feasibility studies for those plants have been completed and financing has been negotiated with banks, Ikiara told Thomson Reuters Foundation.
The Meru plant is significantly bigger than the Ngong wind power station, located on the outskirts of Nairobi, which is owned and operated by the public utility Kenya Electricity Generating Company (KenGen).
Ngong produces 6.8 MW, but KenGen plans to upgrade its capacity to 25 MW by 2016, according to its executive director Albert Mugo.
Kenya has the potential to produce up to 1,000 MW of wind power, according to the ERC - equal to around two thirds of the country's current installed capacity of 1,600 MW.
Some 800 MW comes from hydropower and 350 MW from the geothermal sources that abound in the Rift Valley region, with the rest from oil-powered plants.
Fredrick Nyang, ERC director-general, said a map of the whole country has been drawn up to identify locations with potential for wind power.
"Detailed feasibility studies are underway to determine the viability of specific sites identified in the wind map," said Nyang. The northern regions of Marsabit, Turkana and Samburu are known to have strong promise, he added.
Source : www.allafrica.com