13 Wind Power Sites Project In Kenya
Posted on : Friday , 15th August 2014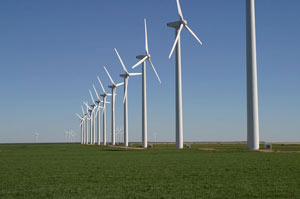 13 wind power sites will be put up in Kenya through the Wind for Prosperity power project. The sites are meant to benefit mainly the local communities where the wind turbines will be set up in off grid areas.
The project, dubbed Wind for Prosperity, will target establishment of the wind power plants in remote areas in Kenya.
One and three turbines, each with 660 kilowatts will be set up according to Morten Dyrholm, the Vestas Head of Global affairs.
In addition to setting up the wind power plants and establishing green energy projects, the US$205 given by the Danish Government will support other various development projects in Kenya.
The funds will be channeled towards two other main development areas – devolution and regional security – in addition to the green energy projects, in a period of four years. Part of the green energy projects include the setting up of the 13 wind power plants. The health sector is to receive the major share of the funds in the 47 counties in the country among other public service sectors. Danish Trade and Development Minister Mogens Jensen said that it is important for counties to build up heath centers that are able to reach everyone in their counties during a Danish Business Network in Kenya forum in Nairobi.
He also indicated that the funds allocated to improve regional security are to supplement the work the police do in combating terrorism. This comes at a time when the country has been dealing with security issues in various parts of the country, in particular the coastal region which has hampered the country's economy.
Danish aid to Kenya goes back to Kenya's independence in 1963. Kenya is one of the four original beneficiaries for Danish development assistance.
Source : www.constructionreviewonline.com