Kenya: KenGen embracing geothermal wellhead plants
Posted on : Thursday , 14th August 2014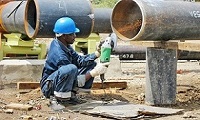 KenGen Assistant Manager Peter Ouma says adoption of geothermal wellhead generators would help reduce the time it takes to generate electricity from geothermal steam wells.
Geothermal wellheads are smaller power producing units that generate between 5 and 10 megawatts of electricity.
Ouma says the wellheads are affordable and easy to install, and help in early tapping of electricity while waiting for the construction of big geothermal power plants.
The move is expected to address the high cost of power in the country and will see reduce the use of diesel which is three times expensive than geothermal.
Already KenGen has injected 25.6mw of electricity into the national grid through the use of the mobile geothermal wellheads generators.
Five wellhead plants have been installed so far by Norwegian-Icelandic company Green Energy Group AS with a total combined power generation capacity of 30.6 MW. The company is currently constructing an additional 5 plants with another 25 MW for KenGen at Olkaria.
Source : www.thinkgeoenergy.com