Kenya: Bank, Shanzu TTC to Build Sh28 Million Hostel
Posted on : Wednesday , 13th August 2014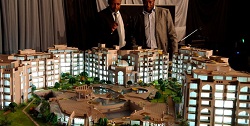 FINANCIAL institutions should partner with tertiary ones and county governments to spur development, Kisauni MP Rashid Bedzimba has said.
Speaking during the ground-breaking ceremony for a Shanzu Teachers Training College Business School hostel yesterday, Bedzimba said financial institutions have a role to play in county development.
Jamii Bora Bank has partnered with the Shanzu TTC to construct the hostel at a cost of about Sh28 million, which the bank has offered as an unsecured loan.
The hostel will have a capacity of about 136 students.
Jamii Bora boss Sam Kimani said lending money should not depend on security but more on the character and faithfulness of the borrower.
"I don't have any doubt that you will pay us. Even if you require another loan before paying this one, we will give it to you," he said.
Shanzu TTC chief principal James Ziro said the hostel is a project that has been in the offing for over a decade but commitment by senior government officials identified to launch it has been a problem.
He said the hostel will increase the enrollment of students to the business school, which was launched years back as an income generating project.
"Most students ask whether there is accommodation before they enroll with us. That is why we had to construct this hostel," Ziro said.
Shanzu TTC board chairman said the business school is an income generating project that has helped the institution be a little more self reliant.
"Depending on the ministry has been a problem because they have so many commitments that it was hard for us to get something from them," Ziro said.