New Bugesera International Airport, Rwanda among projects that need US$1bn
Posted on : Wednesday , 13th August 2014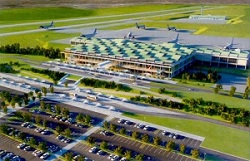 The Government of Rwanda is planning to borrow US$1bn to fund various infrastructure projects in the country next year. The most pressing of the development projects on line is the construction of Bugesera International Airport and power plants.
The government was forced to borrow from the international community after foreign investors failed to fund key projects in the country.
The airport will be located in southeastern Rwanda, Bugesera District and will be Rwanda's largest International Airport when complete, serving commercial flights destined to and from the greater Kigali metropolitan area. It will also be Rwanda's third international airport and the country's eighth.
The new airport to be constructed in Bugesera district is aimed at addressing the rise in the number of passengers at the Kigali International Airport. The airport is currently operating beyond its capacity of 300,000 passengers per year. The airport is operating 10 times its capacity and has been expanded as a short term measure.
The total cost of the construction of the airport is US$600m and the project includes construction of a 4.2 kilometer-runway, and cargo and passenger terminals capable of handling 1.8 million passengers annually. The airport was expected to be ready by 2017 but construction works are yet to commence and thus the need for the funds being sourced by the government.
The government initiated a rural energy promotion programme where it identified sites to be developed by individual or private firms under public-private partnerships. This is considered to be one of the other ways to meeting the energy demands and reducing energy costs, and establishing profit making initiatives in Africa.
Rwanda to borrow US$1bn for Bugesera International Airport Project, construction of Bugesera International Airport, new Bugesera International Airport
Source : constructionreviewonline.com