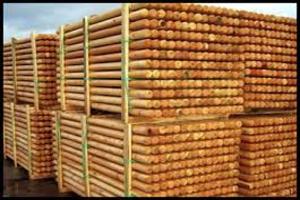 Posted on :Wednesday , 24th April 2019
Driven by booming construction and furniture markets Africas industrial wood demand expected grow over the next two decades
Africa's 2030 industrial wood demand will be met by imports, given the dwindling natural forest resources and constrained plantation forestry . Local production is increasing, but not nearly fast enough hence the region is growing into a $ 50 billion annual import market. Vast sums of money and increase in consumer prices will leave Africa to import wood. This is a huge market opportunity that is sustainable in the long term.
The performance of the furniture sector is crucial both to employment and growth in the country the Government of Kenya recognizes that. In order to understand their current state of development, their main constraints, and the interventions are necessary an analysis of both the furniture and timber sectors is to accelerate growth by the Ministry of Industrialization and Enterprise Development (MOIED). The MOIED has made policy options available to recommend critical interventions to stimulate the industry's development, the objective of this are to provide a comprehensive value-chain of the Kenyan furniture industry, including the timber sub-sector. This also aims to identify ways to boost Kenya's competiveness in the East African market and beyond.
Within the global and regional context Kenya's wood industry is largely focused on the wooden furniture sector versus plastics, composites, and other furniture. As compared to Europe, Asian countries and South Africa the bulk of Kenya's furniture industry is focused on wood, and Kenya has a competitive advantage in wood. In order to solve Africa's wood supply crisis the potential of small-scale farmers has been unlocked by Komaza. They provide farmers with support across the forestry value chain, from sawmills to seedlings.
Collectively, small farmers possess limitless labor resources and land to plant billions of trees. Komaza works in unlocking the potential of small-scale farmers. Their vision is to become Africa's largest forestry company. By growing an environmentally-sustainable wood supply and generating truly life-changing income for millions of farmers. With a dramatically lower-cost and more-scalable forestry model to solve Africa's wood supply crisis.