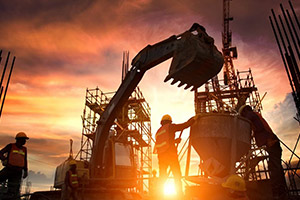 Posted on :Monday , 31st July 2023
ATIDI guaranteed a EUR300 million credit facility provided by Deutsche Bank AG to the Tanzanian government. The facility will finance numerous infrastructure projects that are part of Tanzania's budget for 2022/2023 and are in line with the country's National Development Vision 2025.
Insuring Deutsche Bank against non-payment by the Tanzanian government on the loan facility advanced to the ministry of finance, ATIDI provided a seven-year comprehensive cover, allowing the commencement of 50 recognised infrastructure projects as well as the rehabilitation and implementation of new ones.
Deutsche Bank's Maryam Khosrowshahi, Co-Head of Africa Coverage, Head of CEEMEA , and Chair of Global SSA, stated that the bank was honoured to have been chosen by the government of Tanzania as their partner of choice on the agreement to aid in funding a number of significant construction projects in the country.
"The Bank's capacity to organise and carry out complicated and creative financings in Sub-Saharan Africa is witness to the effective execution of both tranches within a reasonably short period of time after the beginning of the transaction. For our continued close collaboration on the underwritten tranche, we are appreciative to ATIDI, Ms. Khosrowshahi stated.
Tanzania was one of the seven countries that helped form ATIDI in 2001, together with Burundi, Kenya, Malawi, Rwanda, Uganda, and Zambia. Since its founding, ATIDI has helped Tanzania with projects worth more than 3.5 billion dollars in industries including financial & insurance services, oil & gas, construction, and manufacturing. The contract value of ATIDI in the nation is USD 3.5 billion, with an additional USD 900 million in the pipeline for the near future.
ATIDI is delighted to assist sustainable and beneficial initiatives in Tanzania. As the continent's biggest Pan-African multilateral insurer, it continues to play a critical role in assisting its member nations' development objectives and goals. We look forward to exploring other revolutionary initiatives that will benefit Tanzania and its people in the long run. Manuel Moses, CEO of ATIDI, stated.