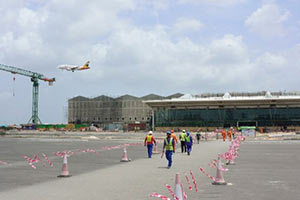 Posted on :Wednesday , 24th November 2021

The actual building of Sumbawanga Airport, which is located in Rukwa Region, one of Tanzania's 31 administrative areas, is poised to commence following the completion of exploratory work, as recently revealed by Mgeni Mwanga, the Acting Regional Director of Tanzania National Roads Agency (TANROADS).
TANROADS is an Executive Agency within the East African country's Ministry of Works, Transport, and Communications that is in charge of the maintenance and development of Tanzania's Mainland Classified Road Network.
Notably, the Sumbawanga Airport was originally built as an aerodrome following World War II, and plans for its modernization/redevelopment were born approximately 10 years ago by the Tanzanian government with the goal of making it a pole of economic development capable of developing, in particular, the host region's agricultural and tourist potential.
The project, which spans approximately 187 hectares, is being carried out by Sinoshine Overseas Construction and Investment East Africa Ltd (China) in collaboration with SMEC International Pty Ltd, an Australian-based firm that provides consulting services on major infrastructure projects around the world, and its subsidiary, SMEC Tanzania Ltd.
The Sumbawanga Airport redevelopment project is projected to cost around USD 24 million.
It is co-financed by Tanzania's government and the European Investment Bank (EIB), the European Union's lending arm and the world's largest multilateral lender.