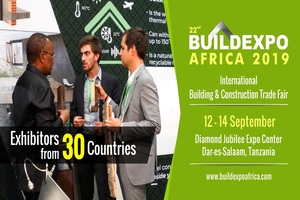 Posted on :Monday , 2nd September 2019
22nd Buildexpo Tanzania is back in Dar-es Salaam from the 12th to 14th September 2019 at the Diamond Jubilee Hall. Held right in the city center the event is expected to introduce a large number of companies from around the world to Tanzania. After a very successful show in Kenya, the largest international trade exhibition in East Africa dedicated to the building and construction industry is on its way to make a big impact on the Tanzanian market.
Co-located this year with the 22nd Buildexpo Tanzania are 5th Afriwood - focusing on the timber, woodworking and sawmill sectors, 5th Minexpo - bringing in investors and equipment suppliers for the mining sector and 5th Lightexpo – introducing new and innovative lighting products to Tanzania. Showcasing a wide range of products and machinery the exhibition brings to Tanzania companies from a large number of countries who are looking for distributors, retailers, importers and re-exporters.
Countries dominant this year are Italy, Egypt, China and UAE. Companies including industry leaders like Ambrovit S.P.A, Dragflow S.R.L, Itare S.R.L, Termolegno Drying Kilns and Big On Dry S.R.L (Italy), Aldhabi Contracting & False Ceilings, Neisco and Chemicals For Modern Building International (Egypt), Total Foundation Solutions FZCO, Al Khaleej Ceramics LLC and Al Hatimi Trading FZE (UAE), Poqutec (Korea), Inchem Polonia (Poland), Swartland Windows & Doors and TNC International (South Africa), EDGE Innovate (United Kingdom), Tece Dekor AS (Turkey), Gizmo Global Connections Ltd and Wilo East Africa Ltd (Kenya), Zhejiang Dayuan Pumps Industrial Co.,Ltd, Sunkey Aluminium, Xiamen Zheng Liming Metallurgical Machinery Co Ltd, Skyline Aluminium Co., Ltd., and Guangzhou Hexin Industry Co.,Ltd. (China), Atlas Sport SRL (Romania), Arya Baron (Iran) and Marmo e Granito Mines (T) Ltd, Superdoll Trailer Manufacture Co. (T) Ltd, Rockplant East Africa - Hitachi and Hyundai East Africa Ltd (Tanzania) are participating at this event along with many more local and international players.
Buildexpo is the ideal forum for international companies to showcase their products and services to the huge market. Major company leaders from East Africa and surrounding regions are invited directly in collaboration with regional trade bodies in Kenya, Tanzania, Ethiopia, Uganda, Somalia, Mozambique and Congo. The visitor registrations are much higher including top industry professionals such as builders, developers, architects, consultants, engineers, manufacturers, importers & distributors.
A recent World Bank assessment summarizes that Tanzania has sustained relatively high economic growth over the last decade, averaging 6-7% a year. The country's overall population is about 55 million has made it a vital market in the East African region. The 2018/19 budget targets public investment to consume 45 percent of total spending, equivalent to 9.1 percent of GDP compared to 5.5 a year prior as the Government has prioritized efforts to improve public administration, planned scale-up in infrastructure projects and manage public resources for improved socio-economic outcomes. For the last year, official data report that industrial output grew at 12.1 percent, up slightly from 10.7 percent output in previous period, primarily because mining, water, and construction activities expanded. In 2017/18, mining and quarrying grew by 17.5 percent, water by about 17 percent, and construction by 14 percent. Transport and storage activities, also, grew by 17 percent. Growth in mining was primarily driven by significantly higher coal and natural gas production. The macroeconomic environment is expected to be stable in the near future but with the boost of reforms not far from fruition.
Visit: http://buildexpo.expogr.com for more information or contact:
Melwyn Fernandez
Media Manager
Buildexpo ( East Africa )
Email: buildexpo@expogr.com
Int'l: +971 43050755