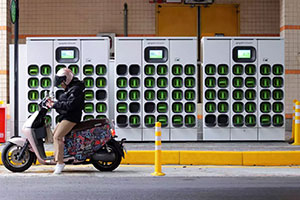 Posted on :Tuesday , 3rd October 2023
By the end of 2024, an e-mobility start-up in Kenya plans to manufacturing electric vehicles (EVs) and build hundreds of battery swapping locations in Nairobi.
Recently, ARC Ride and asset financing firm Watu Credit Limited announced their collaboration to expand Kenya's expanding e-mobility market. In Nairobi, ARC Ride manufactures electric cars and runs a Battery-as-a-Service business.
By the end of 2024, Watu plans to produce 1,000 electric cars (EVs) and set up more than 300 battery swap stations in Nairobi. We're excited to boost Kenya's potential as a top e-mobility hub, particularly for boda bodas.
Watu is assisting the establishment of battery switching stations for electric motorcycles in Nairobi in addition to aiding in the manufacturing of EVs. ARC Ride has so far installed 76 battery-swapping stations throughout Nairobi. By the end of this year, it hopes to have at least 100 stations. At least 50 bikers use their battery exchange stations each day.
According to Kenya's National Transport and Safety Authority (NTSA), there were more than 1,000 registered electric vehicles in the country as of February 2023. To ensure that flexible and affordable models are accessible throughout the value chain, the public and private sectors must work together, according to Watu. "Their availability will encourage more people to adopt EVs, invest in manufacturers and assemblers, and set up infrastructure that supports them such as charging stations," he added.
Kenya's government revealed earlier this month that it has joined forces with electric motorcycle manufacturer Spiro in an effort to roll out more than a million electric vehicles (EVs) across the East African nation. The collaboration is a part of the government's bigger e-mobility strategy.
According to Kenya Power's E-Mobility Conference Report, which was published earlier this year, only 5% (1,350) of newly registered cars in Kenya are electric at the moment, with electric motorcycles making up 844 of those vehicles and three-wheelers making up 153. According to the survey, Kenya's two- and three-wheeler sectors account for the majority of e-mobility enterprises.