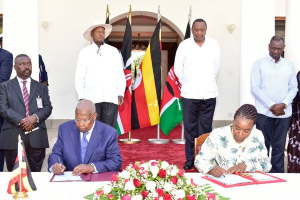 Posted on :Thursday , 30th March 2023
The Permanent Secretary in the Ministry of Finance, Planning and Economic Development, Mr Ramathan Ggoobi, has met with Kenya's Cabinet Secretary for Investments, Trade and Industry, Mr Moses Kuria, to discuss and facilitate regional co-investment opportunities in strategic sectors.
In the meeting held in Nairobi, Kenya, on 28th March, the 2 focused on mutual economic and investment objectives by their countries to strengthen bilateral relations in trade, investment and people-to-people relations.
Both countries agreed to facilitate a regional co-investment initiative between the Devki Group, the Uganda Development Corporation and the Kenya Development Corporation. The framework agreement that will be finalised by April 5th, will allow the transfer of iron ore from Uganda to DEVKI.
"The Lato Milk Company and the Kenya Development Corporation (KDC) will better leverage regional investment opportunities to positively impact the dairy sector and enhance efficient production of milk and it's by products in the 2 sisterly countries," the agreement reads in part.
In order to facilitate competitive production of industries in both the countries, there will be a joint planning of production and manufacturing enablers, including raw materials between Kenya and Uganda to facilitate an all-round supply of raw materials for steel manufacturing between the 2 countries.
Equally, the agreement provides for an accelerated production of animal feeds to support the dairy sector as an enabler to food security, taking into account the farmers' benefits in both countries.
"Lato Milk Company to engage relevant parties on support by way of investment in the struggling milk factories to cushion them from collapse so as to ensure their revival and continuity," the agreement further reads.
It adds: "The Kenya Dairy Board to facilitate LATO Milk to transfer powdered milk from Uganda to Kenya by removing the requirements to receive permission for each consignment transferred to facilitate trade."
The agreement came at a time when Kenya had just suspended a ban on Uganda's powdered milk, which was announced at the beginning of this month. While announcing the ban suspension, the Minister for East African Community Affairs, Ms Rebecca Kadaga, said the ban was suspended after her fruitful discussions with Kenya authorities.
However, the 2 states have agreed to review the agreement framework towards regional co-investment initiatives in the next one month.
Uganda remains Kenya's leading trade partner in the East African region and 2nd largest globally.