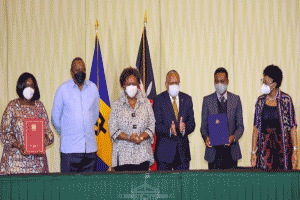 Posted on :Friday , 22nd October 2021
Kenya and Barbados have signed 3 key bilateral agreements for cooperation in aviation, environmental conservation, trade and investment.
President Uhuru Kenyatta and Prime Minister Mia Amor Mottley witnessed the signing of an air services agreement, a MoU on the development of the national botanical garden of Barbados, and another one on the establishment of a Joint Committee on Trade and Investment in Bridgetown, Barbados.
President Uhuru Kenyatta said Kenya and Barbados are focused on deepening people-to-people interactions, adding that it was the people who could turn the good relations between the 2 countries into profitable and meaningful relationships.
Further, the interaction between the business people of the 2 countries will act as a catalyst for bringing many more people, from the rest of the Caribbean region, to Africa to engage in trade, tourism, culture, sports, education and other aspects of common interest.
Uhuru disclosed that the 2 countries are exploring ways of establishing direct air and sea links to enable the free movement of people, goods and services between the 2 countries.