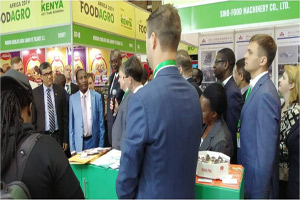 Posted on :Thursday , 1st August 2019
22nd FOODAGRO AFRICA, Kenya's premier business event for the Food & Agriculture industry was inaugurated today in Nairobi at the Kenyatta International Convention Centre (KICC) by Mr. Roy Otieno, Ministry of Industry, Trade and Cooperatives, Government of Kenya. Running for 3 days from the 01st to 03rd August 2019 the event is co-located with the 22nd Kenya International Trade Exhibition (KITE). The 22nd Foodagro Africa 2019 is expected to introduce top products, equipment and machinery presented by exhibitors from over 26 countries.

Also present at the opening ceremony were High Commissioner of Sri Lanka H.E. Sunil De Silva, High Commissioner of Nigeria H.E. Sheidu Omeiza Momoh, Chargé d'Affaires a.i. of Russia H.E. Alexey Balashov, High Commissioner of Sierra Leone H.E. Mr. Peter Joseph Francis, Mr. Thanit Ngansampantrit, Minister Counsellor (Commercial), Embassy of Thailand, Mr. Edgar Tomas Q. Auxilian - Minister and Consul General, Embassy of Philippines, Ms. Marisa Kollenberg, Economic and Trade Department, Embassy of Germany, Mr. Enrique Alvarez, Market Analyst, Embassy of Spain, Mr. Jacobo Durán, International Trade - Investments Advisor, Embassy of Spain, Mr. Mohammad Javad Emamian, Head of the Economic Section, Embassy of Iran, Mr. Sergei Kalechits, Deputy Chairman, National Bank of the Republic of Belarus and Mr. Aleksei Lesnoi, Head of the Department, International Cooperation of the National Bank of the Republic of Belarus.

As a premier and much awaited exhibition which builds' on the success of previous editions, the event is bigger and better this year. Countries dominant this year are Belarus, Turkey, Italy, Iran, Saudi Arabia and China with several leading international brands looking to create their impression in the East African market. The event is headlined by the companies from Belarus participating under the banner of the National Centre For Marketing (Belarus) which include Bobruiskagromash, Gomselmash, Lidselmash, Minsk Automobile Plant, Minsk Tractor Works, Lidakhleboproduct, Smorgon Plant of Bread Production, Concern Belgospischeprom, Aftrade DMCC. Among others, International companies like Hypno, Modern Cikolata Gida Sanayi Ve Ticaret A.S. and Pak Ihracat As - Pakmaya (Turkey), Grandi Vini D'italia Group and Podere Gusto - Tuscan Winery (Italy), Tak Makaron (Iran), Nadec (Saudi Arabia), Dinda Foods (Brazil), Langnese Honig (Germany), Artin Group (UAE), Petrus (Ukraine), Malaysian Palm Oil Council (Ghana), Baoding Way Chein Food Industrial Co., Ltd. and Jiangsu Faygo Union Machinery Co., Ltd(China) are some of the market leaders in their respective industries who are looking for importers, distributers and marketers for their products and brands in Kenya and East Africa.

As one of the major access points in Africa which relies on the huge volume of imports in the country for its own consumption to cater to over 40 million consumers the country is a key supplier to the neighbouring landlocked regions as well. The Food, Hospitality and Agriculture sectors are key to the future of the African continent and represent an immense market with great potential for investors internationally as well as locally. The importance of these sectors to Africa is reflected in the fact that 70 percent of the population draws employment directly from the Food, Hospitality and Agriculture sectors. The food market in Africa is also projected to be worth a whooping USD 1 trillion by 2030, according to the World Bank.
The 22nd edition of the event also attracts a number of the industry's biggest names including experts, stake-holders, directors and other high profile decision makers making it the ideal platform which supports the African growth story. FOODAGRO remains a major hub for business transactions and development in Africa, annually due to its proven track record in the region. Over the 3 days the event is expected to bring the newest and most innovative products in the food, hotel and agriculture industry from around the world, directly to Africa.
Visit: https://www.expogr.com/kenyafood/ for more information or contact:
Joel D'Silva
Media Manager
Foodagro ( East Africa )
Email: feedback@expogr.com
Int'l: +971 43 050755 | Kenya: +254 706 129 142 / +254 773 594 021