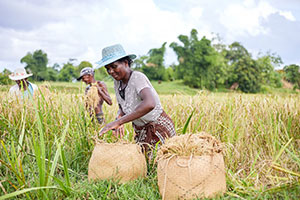 Posted on :Tuesday , 28th June 2022
Farmers in Kisumu can now sigh with relief as the County Government unveiled a major agriculture investment programme designed to revive the industry in collaboration with a UK-based company, United Green Group (UG).
The sustainable agri-food initiative would give the local farmers access to agro-industrial infrastructure, farming services, and sustainable agricultural practises. Consequently, new markets for the farming communities in the Lake Basin region are developed, greatly enhancing the food security of the area.
The first phase of the agreement was signed in Kisumu by Governor Anyang' Nyong'o and Rod Bassett, UG Director and Head of Agriculture and Food Investments.
The five-year, transformative agriculture project is anticipated to cut Kenya's trade imbalance by Sh23 billion annually by reducing the country's reliance on imported food products.
Prof. Nyong'o claims that the initiative being carried out by Kisumu County and United Green in collaboration with assistance from the national Government will protect subsistence farmers from recurring losses and other difficulties in the farming industry.
"United Green brings farmers together to improve farming efficiency so they can increase the value of their produce. In order to promote inclusive, market-based, and environmentally sustainable agri-food systems, Kenya requires a champion organisation to provide leadership and wise investment, according to the Governor.
According to Dr. Edward Ouko, chair of the Kisumu Lakefront Development Corporation, the lake region stands to benefit from increased investment thanks to the project's rigorous development methodology.
Speaking at the ceremony, Julius Court, Deputy UK High Commissioner and Development Director, a key participant in the programme, expressed confidence that the effort would end up becoming the largest and most cutting-edge integrated agri-food and services operation in Kenya.
According to him, this places the project in a leading strategic position for the growth of the nation's highly prospective agricultural sector.
In terms of the impact on employment creation, increased crop output for the community of outside growers, improved livelihoods, and increased food security, Julius expressed excitement.
A smallholder farmer scheme would be created under the programme that would merge 100,000 hectares of primary farms from nearby agricultural communities in an effort to boost production and support sustainable farming practises.
In order to give the farmers financial certainty, the project would then agree to off-taker arrangements with them.
20,000 rural households will be targeted for incorporation in the new agri-food operating system, and when the enterprise is operating at full capacity, over 2,000 people will be directly employed, according to County Executive Committee Member for Agriculture, Irrigation, Livestock and Fisheries Gilchrist Okuom.directly employed when the enterprise would be operating at full capacity.