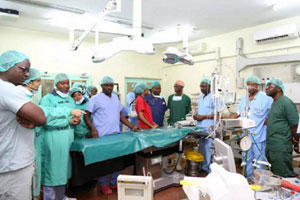 Posted on :Wednesday , 13th September 2017
The administrative director of Mombasa Hospital Abbas Nasser says specialist surgeons from India are conducting a free medical camp at Pandya hospital where they are treating patients with cancer, heart and diabetes and related problems.
"Those that shall require surgery will be operated on free of charge", he said.
He lauded the collaboration with the Indian doctors saying this would make it easier and cheaper for patients to access quality specialist healthcare locally.
The leader of the team of surgeons Under Continuing Professional Development (CPD) of India, Anitha Nirajan said that the Government of India facilitated healthcare related programs throughout the World.
She said that their government had a distinct medical visa for patients travelling for treatment in India which was lower than the ordinary one and could be accessed electronically.
Anitha said that CPD organizes for patients from the airport to the hospitals and where accompanying relatives would stay while the patients was in hospital.
"Now with the new collaboration with Mombasa hospital Doctors from India shall come and see the patients here instead of them travelling to India", she said.
She said more than 3,500 patients traveled to India every year for specialized treatment and that she believed that many more were unable to travel because they could not raise the money required to travel.
"A patient who needs specialized surgery has to be accompanied and that has cost implication which many families are unable to afford", she said.
Anitha said that with such collaboration patients who were treated in India did not require to travel back for review or follow up treatment as that would be done in Mombasa hospital.
She said that doctors in India would either travel to see patients at Mombasa hospital of work with the local doctors through Video links.
She thanked the Indian High Commission and the government of Kenya through Mombasa Hospital for facilitating the healthcare collaboration.
Also Read Moi Girls calls on Kenyans of goodwill for support
"I am also happy that Mombasa Hospital has the necessary medical equipment that meet international standards and has greatly impressed the visiting doctors", she said.