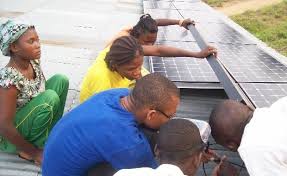 Posted on :Monday , 20th March 2017
The first large installation of solar energy tapping panel in Ethiopia was conducted in Mitto village with a mini-grid of 10 kW in 1985, by the former Ministry of Mines and Energy. Four years latter it was expanded to 30-kW. Before 2008, almost the major solar power applications were used for telecommunications. In early 2013 a solar panel assembly plant was opened around the suburb ofAddis Ababa.
In line with this, last February the Addis Ababa University had hosted a training on solar energy for people drawn from different states of the country. The training was held at the post-graduate hall of the College of Natural and Computational Sciences.
Themed "The way Ahead with Renewable Energy: A Role for Ethiopia," the training focused on the utilization of solar energy, solar cooking and water pasteurization.
It was Nation for Nation Networking that organized the training in collaboration with the College of Natural and Computational Sciences of AAU.
The training aimed at helping families utilize solar energy in improving their life style through better health and working conditions.
Abaynesh Asrat, CEO of Nation for Nation Networking on the occasion noted that the training on solar energy, solar cooking and water pasteurization is viable, timely and the first of its kind for Ethiopia.
Solar power is suitable for remote areas not connected to energy grids. It may come as surprises to city-dwellers that this move could afford them in creating jobs as well as realizing dreams to be entrepreneurs.
We need to produce materials that could be used to harness power.
According to Abaynesh, solar energy offers considerable advantages over conventional energy systems by scaling down those systems long considered to be unchangeable. Solar energy helps families preserve food, saving scarce resources and keeping them healthy.
Ethiopia is blessed with a huge amount of power that could change the livelihood of the society at grass roots.
We need to incorporate the Sustainable Development Goals (SDGs) into our goal-setting of energy. That is why I just try to do my best.
Energy, and especially electricity, is the golden thread that impacts most of the 17 SDGs and beyond that, the development of every nation and economy. The United Nations has recognized Energy as a cornerstone for economic development, facilitating poverty and hunger reduction efforts, improving education, women's empowerment and healthcare.
"I would like to recommend respective engineers to work on it. Higher Learning Institutions should also pull more human power development efforts in line with this area," she noted.
Power is instrumental to mange life and market.
Her experience, passed through huge life experience in medical and mental health settings at the Centre for Comprehensive Health in New York City is worth of a special mention.
Abaynesh has also contributed significantly in the areas ofcommunity-based education, prevention of domestic violence, a healthy and safe atmosphere in the family and in the work place, HIV/AIDS awareness, and the provision of health related information through seminars and correspondence. She has worked with the School of Public Health of Columbia University in evaluating approaches to increasing breast cancer screening among African and African American women in New York.
"I have lived in USA for about 48 years. I decided to come to Ethiopia to do something. Moving beyond the rhetoric improving the health of society supported by science and technology thereby creating jobs to those at the grass roots afford a reliefto mind. I hope fellow citizens second this."
Young Ethiopians are working diligently to change their fate. Their enthusiasms tells me that Ethiopians have entrepreneurial acumen.
This coming generation should be supported by viable mechanisms to penetrate market. Solar energy is cheap and affordable. In the training I have tried to drive home some trainers from USA and organized the training which took place last February. I hope young engineers will join the efforts and make the materials to be assembled here in Ethiopia.
Shibiru Temesgen (Ph.D.), Dean of college of natural and Computational Sciences, for his part said that the training is part ofthe Addis Ababa University's efforts to deliver community service that transforms lives.
Solar energy helps avoid pollution caused by the use offossil energy. It helps maintain hygiene and avoid ailments such as childhood pneumonia and water-borne illnesses.
Director, Office of External Relations, Partnerships and Communication ofAddis Ababa University Dr. Zenebe Beyene, for his part noted that it showcases how a single person's determination could create differences. The university has signed a Memorandum of Understanding (MoU) to run the project and work together. "I hope many fellow citizens would follow suit. Beyond rhetoric engaging in a actual deed to be part of nation's renaissance move. "
The training has important dimension in that it could enable trainees to produce things locally.
The training is a pilot test to introduce how it is possible to manufacture solar panels and solar cookers from simple materials available locally.
Twenty trainees selected from different part of the country, especially those who prepare and sell fast food on the streets, were taken aboard the training.
"Irrespective of Ethiopia's year-round sunshine, millions of people living at remote areas lack access to electricity as they rely on kerosene, fire wood and charcoal as sources of energy. That could damage the health of the people and the environment as well."
"I have observed thousands of women in rural areas carrying firewood for energy consumption; sad I decided to come up with this initiative which can mitigate the problem," she noted.
The trainees on their part disclosed that they have acquired the skills to locally produce solar cookers from fallen aluminium foils.
A trainee, Girma Kebede, who is one of the potato chip vendors on the streets ofAratkilo, explained that the training was fruitful as the technology is affordable and eco-friendly.
"We have acquired adequate skills to produce solar cookers locally from simple materials; I have made plans to travel with tourists as their cook. Now that I have this technology which is portable and can be used everywhere I go," says Girma.
Abayinesh also noted that "By defining our tasks more clearly, by making them doable, we can help citizens appreciate it, embrace it and pursue it relentlessly vesting hope in it."