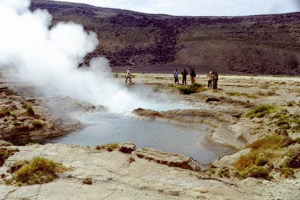 Posted on :Monday , 9th January 2023
Canadian company 4th Resource has been awarded a licence by the Ethiopian authorities to conduct geothermal surveys in 2 regions. The planned studies will measure the intensity of the geothermal resource with a view to developing this renewable energy in Ethiopia.
Ethiopia wants to increase the share of geothermal energy in its energy mix. As part of this policy, the Ethiopian Ministry of Mines is granting a geothermal reconnaissance permit to 4th Resource, a company based in Calgary, Canada. "This is an important milestone for 4th Resource as it moves towards its goal of becoming an independent energy developer with a minimal environmental footprint," says the Canadian company.
The licence covers an area of 1,948 km² in the Somali Regional State and Dire Dawa Administrative Council regions of eastern Ethiopia. With this licence, 4th Resource will carry out the evaluation and qualification of previously identified geothermal resources with the aim of moving into the exploration and development phases. The permit was issued under the new geothermal regulations issued in 2019 by the Ethiopian government, which aim to facilitate and encourage the development of geothermal energy in the country.
The Ethiopian part of the Great Rift Valley stretches 1,000 km from the Afar Depression at the junction of the Red Sea and the Gulf of Aden in the northwest to the Turkana Depression in the south, providing Ethiopia with abundant geothermal resources. In fact, the potential of this East African country is estimated at 10,000 MWe according to the book Clean Energy Opportunities in Tropical Countries published by Shaharin A. Sulaiman in January 2021 published by Springer.
Ethiopia has already started exploiting its geothermal potential with an installed power capacity of 8 MWe. Geothermal energy development is ongoing at several sites, including Tulu Moye, Corbetti and Aluto Langano in the southern region of Oromia. These projects are in the exploration and construction phase and are being developed by private companies, including France's Meridiam, Iceland's Reykjavik Geothermal, and Britain's InfraCo Africa and Berkeley Energy.