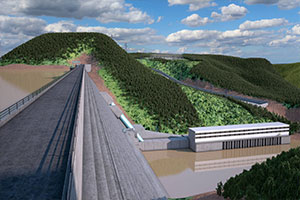 Posted on :Tuesday , 20th October 2020
The construction of 2,160MW Koysha hydropower dam in Ethiopia is 39 per cent complete. The dam is the fourth hydropower project under construction on Omo River.

Dr Seleshi Bekele, Minister of Water, Irrigation and Energy, stated that the construction works at the dam are progressing well. "This project shows how our country Ethiopia is utilizing its water resources for a sustainable development and to improve the livelihoods of its citizens," he mentioned during his visit to the construction site alongside the Executive Secretary of the UN Economic Commission for Africa (ECA) Dr. Vera Songwe.

Apart from the Koysha hydropower dam, the two officials also visited the 1,870MW Gibe III hydroelectric plant on the same river. Dr Seleshi, lately publicized plans to fully electrify the country by 2025. More than 65 per cent of Ethiopians have no access to electricity. The country is building the Grand Ethiopian Renaissance Dam (GERD) on Abay River to drive forward its economy by improving access to electricity.