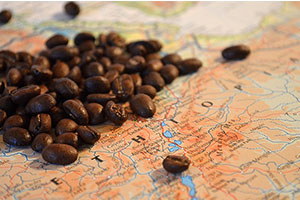 Posted on :Tuesday , 1st November 2022
Ethiopia is anticipated to produce 8.25 million 60-kilogram bags of coffee during this time (495,000 MT), Ethiopia is home to more than 15 million smallholder farmers who depend on coffee as their main source of income. The total amount of coffee exported from Ethiopia in the most recent fiscal year was 4.70 million bags (282,000 MT).
As of 2022, Ethiopia is the largest producer of coffee in Africa and the third-largest producer of arabica coffee in the world, with a production that has gradually increased from 6 million to over 8.15 million bags over the previous ten years. The coffee seedling that was recently planted and produced after growing for five to ten years.
To reach 8.25 million bags (495,000 MT) of coffee in 2022–2023, production is projected to rise by 100,000 bags, assuming favourable weather, low insect and disease pressure, and adequate rain. The estimate for coffee production in 2020-21 has been increased to 8.15 million bags from our previous forecasts for 2019–20, which were 7.6 million bags.
The main reasons for the increase in production volume are the higher yields observed in the coffee-producing belts, particularly in the southern and western regions, as well as the planting of new trees for harvesting. The amount and distribution of rain during the MY 2020/21 coffee growing season ranged from normal to higher than usual.
With the aim of enhancing the sustainability and value chain in the country's coffee sector, Ethiopia opened a state-of-the-art training facility for the industry in June 2021. The facility offers practice-based training that is modular in nature. On the grounds of the Ethiopian Coffee and Tea Authority (ECTA) in Addis Abeba, the facility is located.
The specialty coffee is sometimes used to describe the high-quality coffees, which account for about 25% of export quantities.
Ethiopians are among the biggest coffee drinkers on the continent, and the practise is on the rise. Forecasts state that 3.5 million bags of domestic coffee will be consumed in MY 2022/23. (210,000 MT).
According to the Ethiopia Coffee and Tea Authority report, Ethiopia's six-month coffee export earnings increased by $274 million to reach more than half a billion U.S. dollars during the first half of the current fiscal year (2021/22).
Ethiopia currently exports more than 1000 tonnes of coffee daily. Ethiopia's best-performing export, in terms of total income over the past six months, is coffee.