Posted on :Monday , 21st October 2019
Aviation Industry Corporation of China (AVIC), a multi-sector conglomerate started the construction of a 5-star hotel for USD 150 million in Addis Ababa, said by Ethiopian Airlines officials on Tuesday.
This 5-star hotel in Addis Ababa is constructed for the Ethiopian Airlines.
Asrat Begashaw, Head of Public Relations in Ethiopia Airlines said that the hotel is being constructed. . .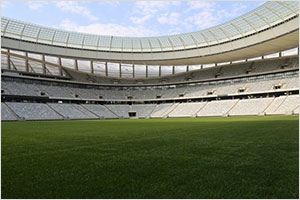 Posted on :Wednesday , 11th September 2019
Ethiopia plans to construct 5 stadia in Addis Ababa to add on the two existing ones – Yidnekachew Tessema and Abebe Bikila stadia.
Out of the five, four are zonal stadia and will be constructed in the districts of Yeka, Nifas Silk Lafto, Bole and Gullele. The zonal stadia will cover an area of 40,000sqm, 70,000sqm and 110,000sqm respectively and each of the have a carrying c. . .