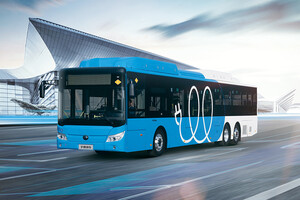 Posted on :Friday , 25th November 2022
Yutong and Addis Ababa, Ethiopia, have inked a contract for the purchase of 110 municipal buses. Together with our Ethiopian partners, we work to improve Ethiopia's public transportation system and give locals a better travelling experience. Yutong will keep striving for excellent quality and services while advancing toward a brighter future.
The city administration of Addis Ababa has inked two agreements with Chinese businesses to simplify and improve the city's transportation services.
The Addis Ababa City Administration inked a deal with the Chinese Yutong Bus Company to acquire the first 110 modern buses appropriate for operation and meeting city standards, at a cost of more than $15 million dollars, with backing from the World Bank. The buses are expected to be delivered within eight months, according to the business.
The second deal was inked with Qingdao Hisense Trans Tech for an intelligent transportation system using information and communication technologies. The new method is projected to considerably boost Lion bus capacity.
The contracts, according to the Mayor's office, would cost more than $14 million dollars and an extra 9 million Ethiopian birr. Lion will also be renovated to world-class transportation infrastructure, and all bus stations will offer paper-free services to clients, ushering in an era of digital mobility.
Mrs. Adanech Abebe, Mayor of Addis Ababa, stated during the signing ceremony that "improving the city's transportation services was one of the concerns we vowed to solve before the 2021 election."
It was also said that the new road, which cost more than 1.9 billion birr, had been built. It was also reported today that an agreement was signed that further simplifies and modernises the city's transportation services.
The mayor also announced that the city administration will contribute more than 2 billion birr to the rental of additional supporting city buses. He also noted that the government cannot provide all necessary transportation services on its own and emphasised the importance of bolstering the private sector's involvement.
She also said that the agreements would facilitate knowledge transfer and modernise ICT services, which would transform the local transportation sector.