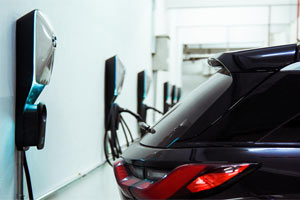 Posted on :Friday , 4th June 2021
The automotive-qualified InnoSwitchTM3-AQ flyback switcher from Power Integrations, the pioneer in high-voltage integrated circuits for energy-efficient power conversion, was launched.

The IC family now includes a member rated at 900 V, allowing for more headroom in inverter, battery management, and climate control applications for 400 and 800 V electric vehicles.

The InnoSwitch3-AQ family is a single IC that integrates primary and secondary controllers as well as safety-rated feedback circuitry. This enables precise output voltage regulation, a low component count, and a variety of configuration options for operating over a large input voltage range of 30 V to 1200 V.

"New 400 V system designs for electric vehicles require higher operating voltages to allow for fault circumstances and transients," stated Edward Ong, Senior Product Marketing Manager at Power Integrations.

The new 900 V INN3996CQ ICs have plenty of voltage headroom and exceed the high qualification standards of the Automotive Electronics Council, ensuring safe and dependable performance in demanding automotive applications. The new device, which employs a StackFET technique, is appropriate for 900 V and higher bus designs."

The AEC-Q100-qualified InnoSwitch3-AQ switcher ICs with constant voltage (CV) regulation achieve up to 90% efficiency across the load range and consume less than 15 mW when not in use. The 900 V family's output power is up to 20 W at 85 °C ambient temperature and 400 VDC input.

The devices feature a multi-mode Quasi-Resonant (QR) / CCM / DCM flyback controller, 900 V switch, and Power Integrations' high-speed FluxLink communications link, which offers accurate regulation and strengthened isolation up to 5500 m altitude in the compact InSOP24 package.

Automotive designers can utilise InnoSwitch3-AQ ICs in traction inverter emergency power supply applications because they operate down to 30 VDC.

Multiple protection features for automotive applications are included in the InnoSwitch3-AQ family of devices, including input over-voltage and under-voltage protection, output over-voltage and over-current limiting, and over-temperature shutdown.