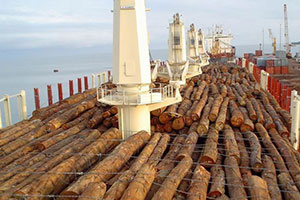 Posted on :Thursday , 30th March 2023
NEW YORK CITY – Caravelle International Group, a global ocean technology company, has formed a partnership with a US corporation to manufacture wood products in Gabon, Africa, for export to the US, and the Gabonese government has granted the partnership use of 165 acres of land for the location of the lumber mill.
Wood laminate flooring, plywood, and other wood products will be manufactured at the mill. Because of cheaper lumber and labour in Gabon, the products will have a significant cost advantage over lumber products made in the United States, but also because the African Growth and Opportunity Act will enable duty-free importation of these products into the United States.
The unnamed US-based partner will finance the Gabonese mill's construction and has already created distribution in the US to sell these products.
The wood products will be shipped to the United States by Caravelle. Caravelle will also dry the wood products in transit using its patent-pending CO-Tech system, which uses recycled engine heat for the drying process, resulting in significant cost savings and a 6-week reduction in lead times compared to conventional kiln drying at the mill, according to a statement from the company.
Within a few years, the partners predict the venture to produce USD 200 million in annual revenue.
"This is an exciting new venture for Caravelle and our US-based partner," said Caravelle CEO Dr. Guohua Zhang. "We have previous experience working with Gabon, having exported lumber from there to Asia." Expansion into the United States is a logical next move that will be a significant growth driver for our company in the coming years."