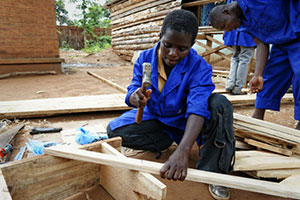 Posted on :Wednesday , 25th August 2021
As demand for residential and office space rises across Africa, the furniture industry continues to thrive in many African countries.
Africa's rising economy, as well as its vast and quickly growing urban population, are some of the reasons why the furniture industry is doing well on our continent.
From Lagos in West Africa to Nairobi in East Africa, it is difficult to miss the massive quantity of building work in many of Africa's cities and towns.
Furniture will be needed as more individuals move into new houses and establish new businesses. Desks and chairs will be required when new schools are erected. New hotels frequently need elegantly designed mattresses, closets, and a variety of other fixtures and fittings.
As a result of increased demand for home and business space, furniture pieces are in great demand. Many regions of Africa are anticipated to see increasing urbanisation, notably in Sub-Saharan Africa, and big metropolitan centres will be the engine of economic expansion, acting as important drivers for increased furniture consumption.
Despite political unrest and a lack of infrastructure, there is evidence of a number of metropolitan areas with development potential for the furniture sector. These cities' economies are becoming more diverse. Huge expenditures in real estate, tourism and hospitality, culture, and entertainment have fuelled demand for the furniture business in recent years.
Nigeria, a big and rapidly developing market in West Africa, is the largest furniture consumer, followed by Ghana and Ivory Coast. Local producers supply more than 70% of furniture demand in West Africa.
Ethiopia is the top furniture buyer in East Africa, followed by Kenya, Tanzania, and Uganda. Ethiopia and Uganda are the region's fastest-growing markets.
The second-largest furniture market is in Southern Africa. Local producers serve 50% of the market. South Africa is the leading furniture buyer, followed by Angola, whose development prospects are particularly promising.
In Africa, the demand for furniture is considerably larger in cities than in rural regions since cities have more offices, modern housing, hotels, and schools, and they are the largest consumers and users of furniture.
By 2030, with the present rate of expansion, more than 500 million Africans would be living in cities. As the population of Africa's cities and towns grows, so will the demand for real estate, including residential housing, office space, hotels, and schools.
At the moment, just a little more than 50 African cities have a population of one million or more people. At the present rate of migration, the number of African cities with more than one million inhabitants is anticipated to reach 65 by 2030.
Because more people are moving to cities and towns in pursuit of work and a better life, the demand for housing is increasing.
Don't forget that when the need for housing increases, so does the desire for furnishings.
This is significant since the government is undoubtedly Kenya's largest spender, and local furniture firms would benefit greatly from this effort.
The bottom line is that the anticipated rise in demand for residential and business accommodation is the motor that will propel Africa's furniture sector forward. It's an excellent moment to start a furniture business in Africa!