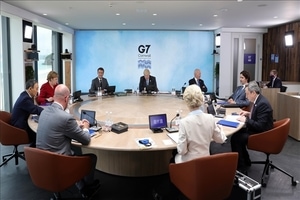 Posted on :Tuesday , 15th June 2021
The G7 nations, in collaboration with multilateral partners, have pledged to invest $80 billion in Africa's private sector.
The G7 Development Finance Institutions (DFIs), including the UK's CDC Group, will assist sustained economic recovery and growth in Africa with this investment, which will be phased in over the next five years. The International Finance Corporation of the World Bank, the African Development Bank, the European Investment Bank, and the European Bank for Reconstruction and Development are among the other investors.
The investments will help African economies achieve their long-term development goals, especially countries affected by the COVID-19 epidemic. It is the first time that the G7 Development Finance Institutions have joined together to make a collective partnership commitment to the African continent.
The CDC Group of the United Kingdom invests in private sector firms in Africa and South Asia to promote good environmental, social, and economic development.
Over the next five years, the UK will invest in Africa using existing cash, with an emphasis on renewable energy, infrastructure, industry, agriculture, and technology. These initiatives will jointly deliver clean, dependable power to millions of people, improve access to financing for underrepresented markets, and help generate employment and alleviate poverty.
James Duddridge, the UK's Minister for Africa, stated: "The United Kingdom is happy to support world leaders' pledge at the G7 Summit to invest more than $80 billion in Africa's private sector over the next five years. This investment will help to create employment, stimulate economic growth, combat climate change, and alleviate poverty. It comes at a critical juncture as the continent rebuilds its economies.
"The patient, high-quality funding that DFIs provide is critically needed if African economies are to start rebuilding fast from the effect of the epidemic," said Nick O'Donohoe, CEO of CDC Group. In support of the UN's Sustainable Development Goals, CDC is dedicated to establishing long-term investment relationships in Africa that fuel sustainable private sector growth.
CDC, Proparco (France), JICA and JBIC (Japan), DFC (US), FinDev Canada (Canada), DEG (Germany), and CDP (Italy) comprise the G7 DFI group. The IFC, the Africa Development Bank, the European Bank for Reconstruction and Development, and the European Investment Bank all support this commitment.