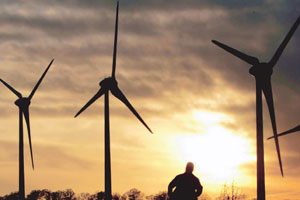 Posted on :Thursday , 1st October 2020
Ethiopian Finance Minister Ahmed Shide recently signed a loan agreement worth €117.3 million with Danske Bank, Denmark's largest bank. This took place during a virtual conference in which Jelsper B. took part. Petterson and Olaf S. Mark Schet, respectively Director and Associate Director of Danske Bank.

This is the second installment of funding from Denmark; it has already provided USD 201 million in 2018.

Sources cite that the project will generate 100 MW power from 29 wind turbines and will harness a part of the nation's massive wind potential. The project is anticipated to develop 330,000KWh yearly and provide sustainable power to more than three million people.

This deal highlights the strong Danish- Ethiopian Corporation the energy sector. Since 2017, the nation has cooperated with the Danish government for the development of Ethiopian renewable energy infrastructure. Through collaboration, Ethiopia is working on the expansion of the wind energy sector and how to combine renewable energy into the electricity grid system.

The corporation between Demark and Ethiopia is part of the Danish Government's aim to develop collaborations in gaining access to energy and sustainable economic growth, in accordance with SDG 7.

The Assela Wind Farm will be located about 150Km south of the capital near Iteya town in Oromia Regional State and will be constructed by Siemens Gamesa Renewable Energy.

Electricity access in Ethiopia is low with approximately 60 million – over half of its population left without access to electricity.

As per the country's National Electrification Plan, the objective is to provide access to electricity for the entire population, 65% from the grid and 35% from solar off-grid technologies.

Electricity supply is dominated by hydropower plants due to the huge resource potential at normal periods but power generation is vulnerable during periods of water shortages and widespread drought causing long periods with power cuts.

By harnessing the huge wind potential in the country and increasing the utilization of wind power, the water resources last longer and create greater resilience to the effects of climate change.