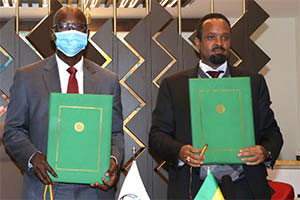 Posted on :Thursday , 1st October 2020
The World Bank Group's Board of Executive Directors has approved a US$80 million grant from the International Development Association to support the government Ethiopia to boost agricultural productivity and enhance market access for smallholder farmers.
The Financing Agreement was signed by H.E. Ahmed Shide, Minister, Ministry of Finance and Mr. Ousmane Dione, The World Bank Country Director for Ethiopia, Eritrea, Sudan, and South Sudan, on behalf of the Ethiopian Government and the World Bank, respectively.
The Grant finance supports second phase of the Government's flagship Agricultural Growth Program that aims enabling smallholder farmers by creating job opportunity, additional income generation, building value chain to improve their livelihood & nutritional status by accessing market, irrigation and other infrastructures.
This additional financing will help to address these challenges and is key to ensuring that Ethiopia's agricultural sector reaches its full potential. The funds will go towards scaling up results achieved so far and enhancing the technical design of various activities. Furthermore, the funds will fill the unanticipated financing gaps created by high inflation and accelerate the implementation of project activities that have been delayed due to significant cost-over run.
AGPII is implemented in 167 woredas (districts) in Amhara, Oromia, SNNPR, Tigray, Benishangul-Gumuz, Gambella and Harari regional states as well as Dire Dawa city administration. The project will directly benefit 1.6 million smallholder farmers, who live in areas with the highest potential for agricultural growth.