Media/Press Releases
The event is very well advertised and promoted on all platforms as follows :
Email Campaigns

Newsletters

Flyers

Billboards & Hoardings

Road shows

Email Invitations
24th MEDEXPO TANZANIA 2023 - TV Commercial
Published on 01st February, 2023
EVENT ADVERTISING - BILLBOARDS
Published on 18th January, 2023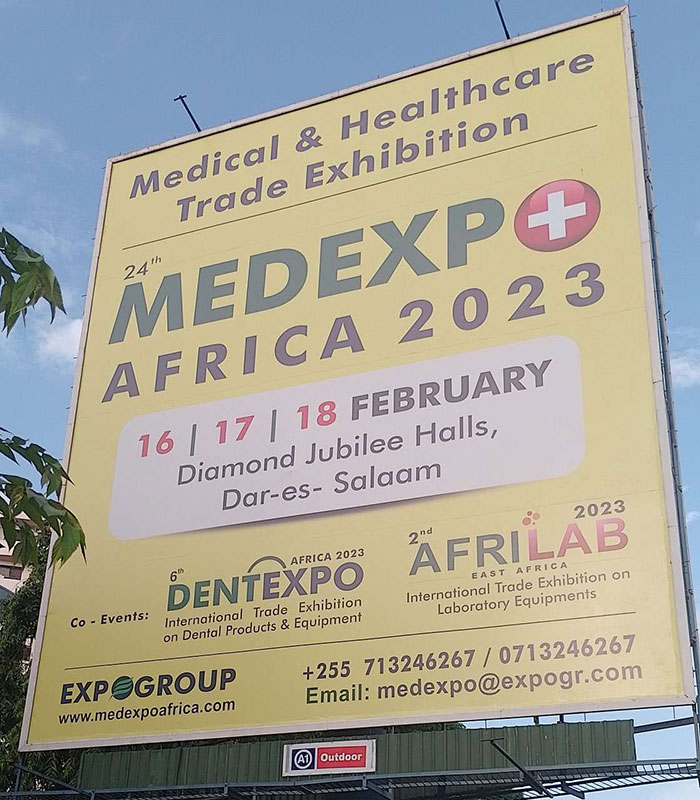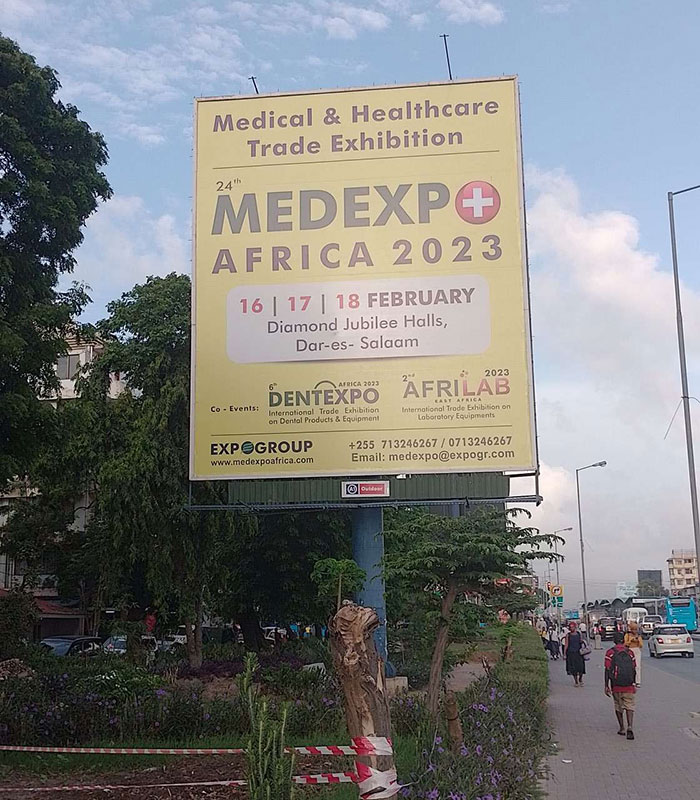 23rd MEDEXPO TANZANIA 2022 - Post event
Published on 04th March, 2022
MEDEXPO TANZANIA 2022 - Coverage on TBC TV ( Tanzanian Broadcasting Corporation)
Published on 19th February, 2022
Media coverage on TV channel
Published on 18th February, 2022
Advert on Guardian news paper.
Published on 16th February, 2022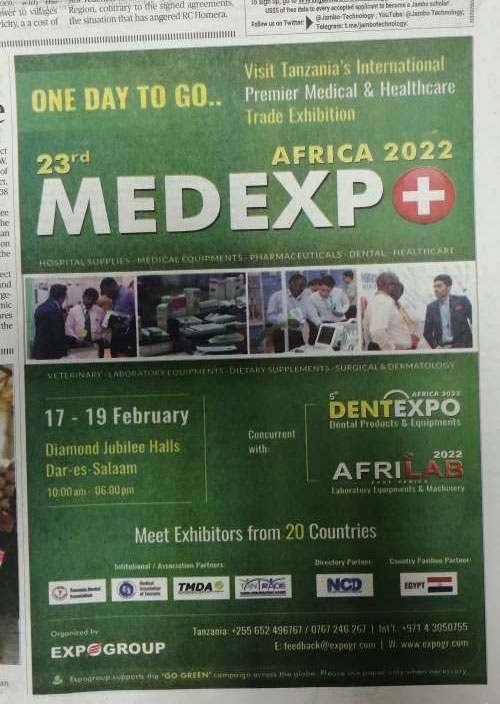 Press release on Guardian news paper.
Published on 15th February, 2022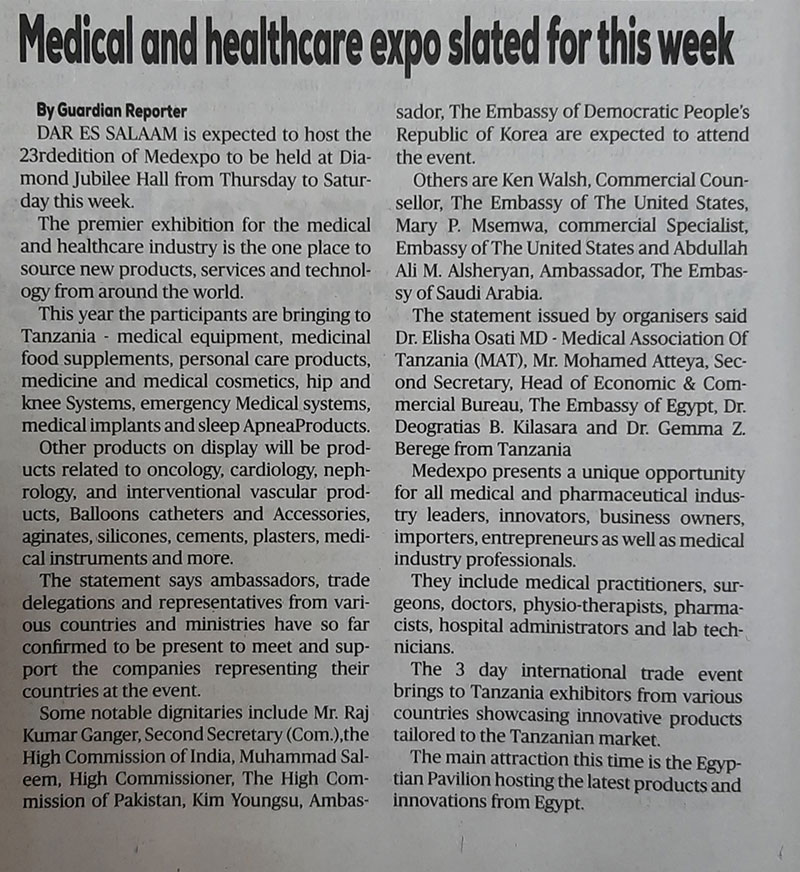 Media coverage on Local TV channel - ITV
Published on 15th February, 2022
Dar es Salaam to host premier international trade exhibition for the medical and healthcare industry
Published on 28th January, 2022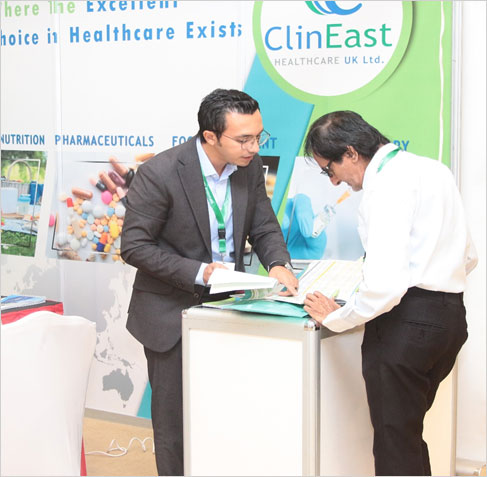 The 23rd edition of Medexpo will be hosted in Dar es Salaam at the Diamond Jubilee Hall from 17th to 19th of February 2022. The premier exhibition for the medical and healthcare industry is the one place to source new products, services and technology from around the world. The much awaited 2022 edition will be open from 10:00 AM to 6:00 PM for the public till 19th of February 2022. Ambassadors, trade delegations and representatives from various countries and ministries are confirmed to be present to meet and support the companies representing their countries at the event.
As the biggest Medical Trade Event in Tanzania, Medexpo presents a unique opportunity for all medical and pharmaceutical industry leaders, innovators, business owners, importers, entrepreneurs as well as medical industry professionals like general medical practitioners, surgeons, doctors, physio-therapists, pharmacists, hospital administrators, lab technicians from related industries and backgrounds to source their needs and interact with international brands under one roof. The 3 day international trade event brings to Tanzania exhibitors from various countries showcasing innovative products tailored to the Tanzanian market. The main attraction this time is the Egyptian Pavilion hosting the latest products and innovations from Egypt. Countries participating include Turkey, United Kingdom, United States, Italy, China, India and Spain.
Highlighting key sectors to promote and introduce new products equipment and services to the upcoming Ethiopian market is the primary goal for the trade exhibition. This year the participants are bringing to Tanzania - Medical Equipment, Medicinal Food Supplements, Personal Care Products, Medicine and Medical Cosmetics, Hip and Knee Systems, Emergency Medical Systems, Medical Implants And Sleep Apnea Products, Dental Implants, Cleanroom system, Water Treatment System, Injectable & Liquid Filling Compact Line, Autoclaves, Personal Protection Equipment (PPE), Hand Sanitizer Dispenser, Orphan Drugs, Prefilled Syringes (PFS), Products related to Oncology, Cardiology, Nephrology, Interventional Vascular Products, Balloons Catheters and Accessories, Alginates, Silicones, Cements, Plasters, Medical Instruments and more.

The Tanzania Medical & Healthcare industry continues to be the most exciting and developing sector in the economy of the country, attracting thousands of investors. Tanzania with a population of 60 million also assumes the role of a gateway into the East African Region creating free access to a potential 133 million consumer market which is in demand of products like PPE kits, oximeters, breath analyzers, protective masks, medical gloves & shields, disinfectants & sanitizers, infrared thermometers and other medical safety gadgets.
Major pharmaceutical companies and medical equipment and devices manufacturers are already looking for opportunities to make inroads into this lucrative market.

For any further assistance, please contact :

Johnson Mkoka
Media Manager
Medexpo Africa
Email:
+255 652 496767

Jacinth Moses
Public Relations Manager
Email:
Int'l: +971 43050755
Media coverage on TV channel
Published on 9th November, 2019
Media coverage on TV channel
Published on 9th November, 2019
Media coverage on TV channel
Published on 9th November, 2019
Media coverage on local NewsPaper
Published on 8th November, 2019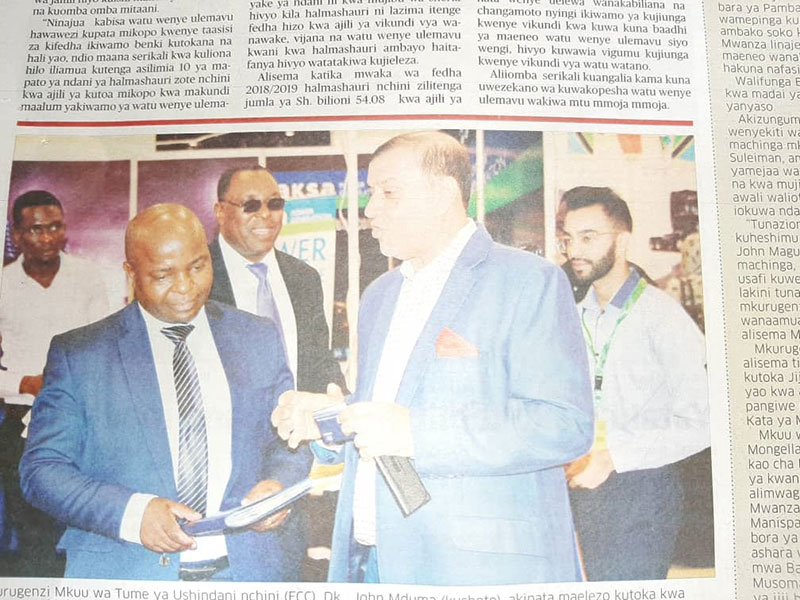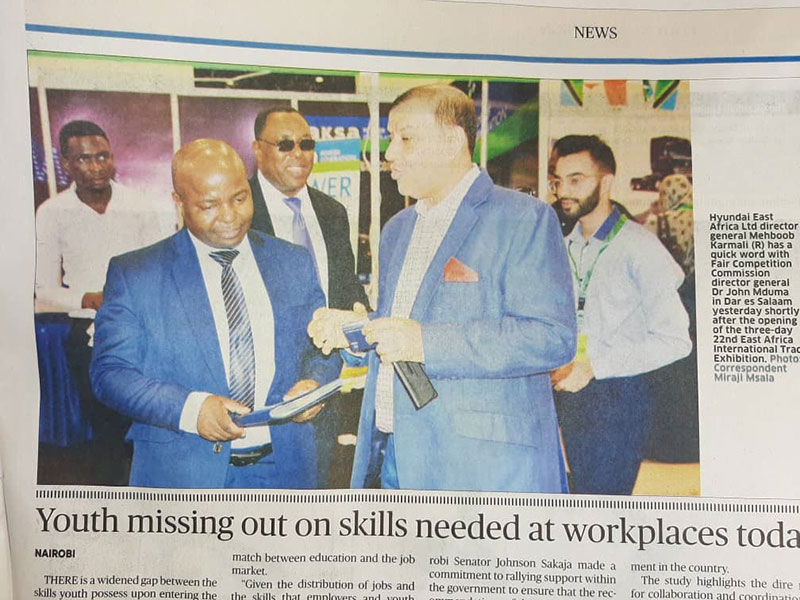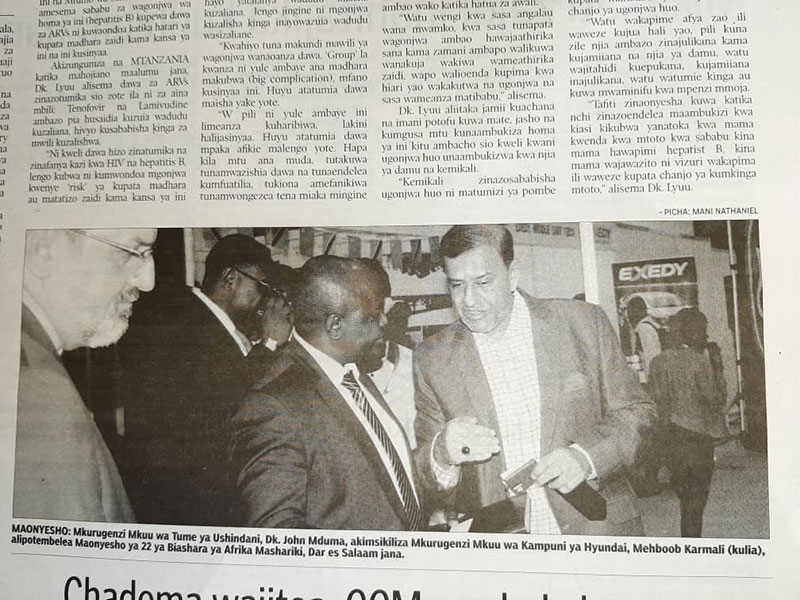 Event Advert on local NewsPaper
Published on 06th November, 2019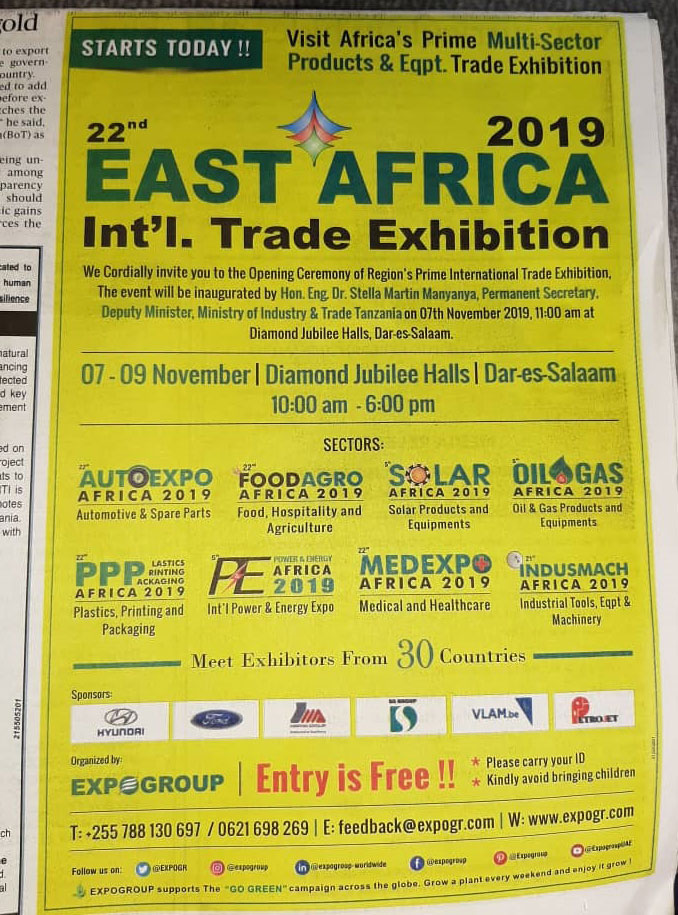 EVENT ADVERTISING - BILLBOARDS
Published on 27th September, 2019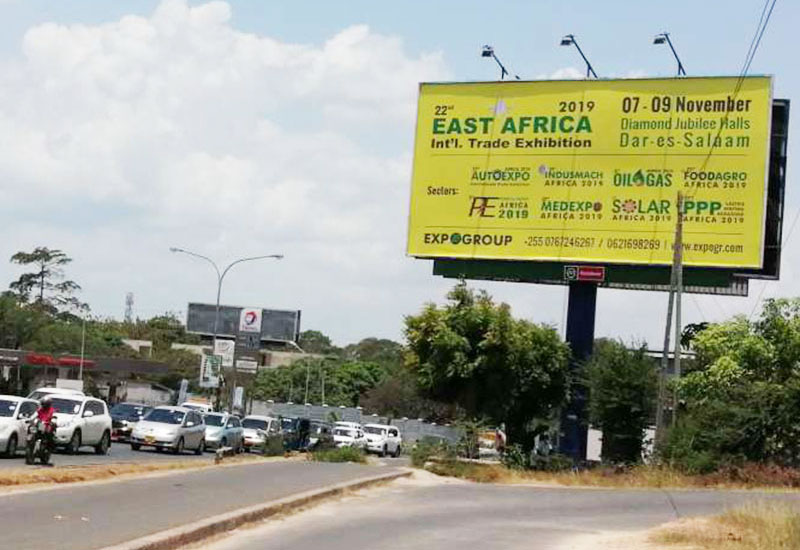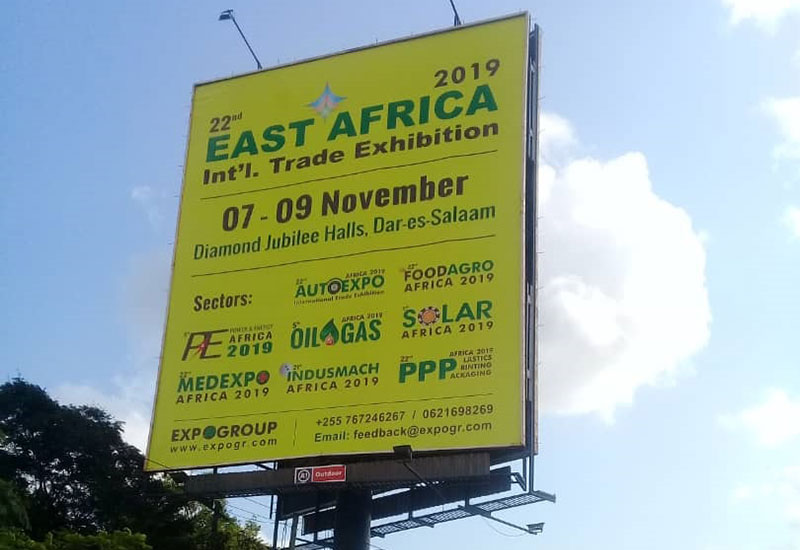 Media coverage on local TV Channel
Published on 23rd Nov, 2018
Media coverage on local NewsPaper - The Citizen
Published on 23rd Nov, 2018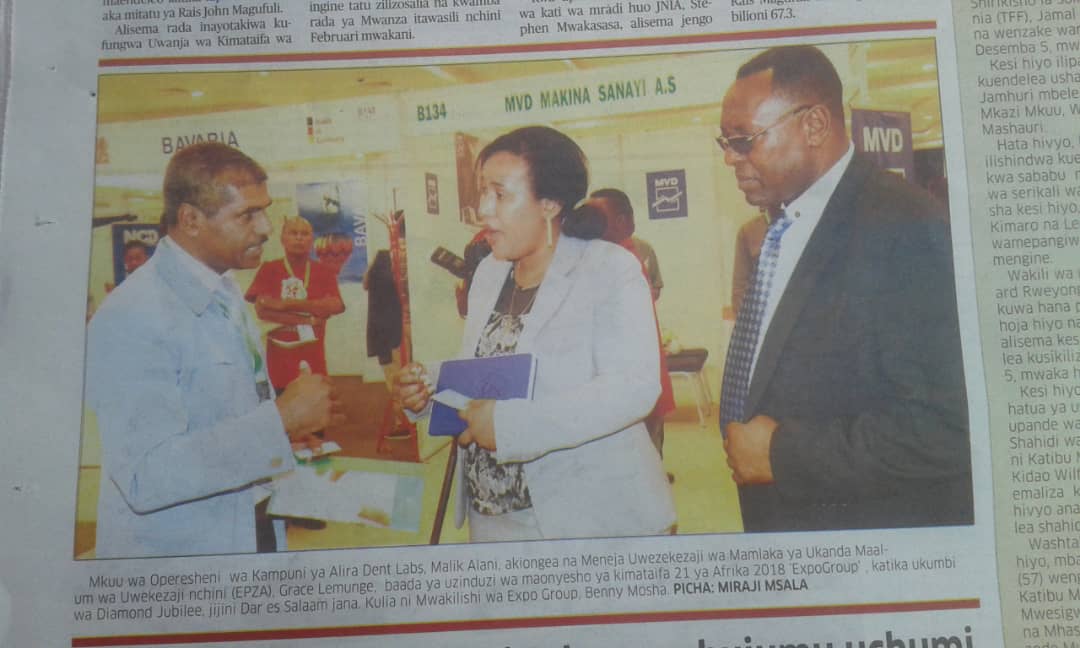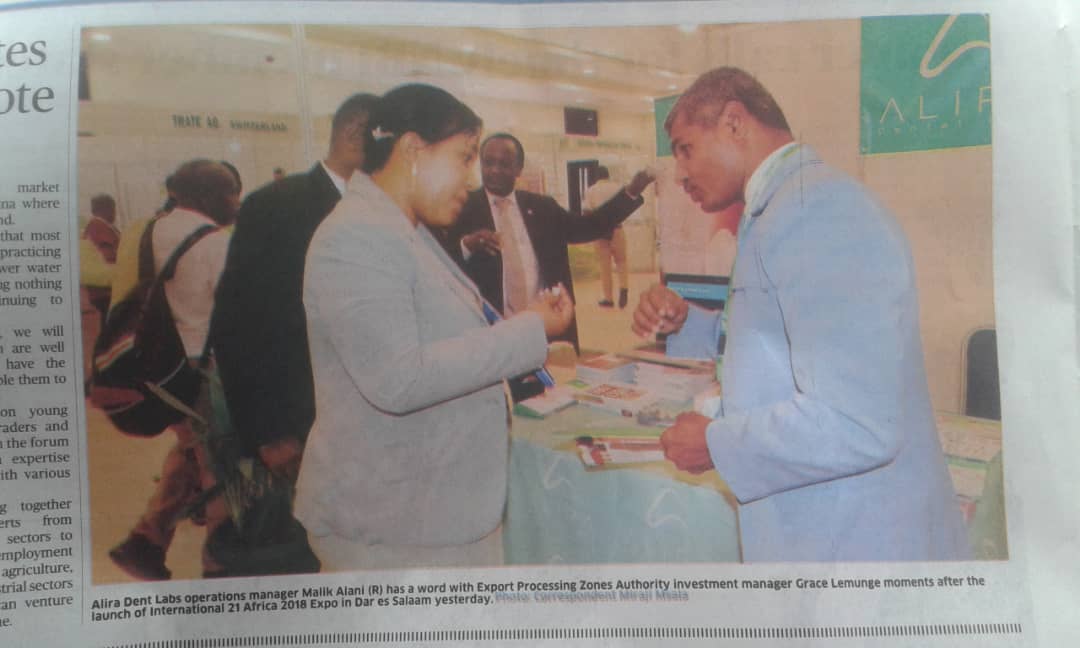 EVENT ADVERTISING - BILLBOARDS
Published on 16th Nov, 2018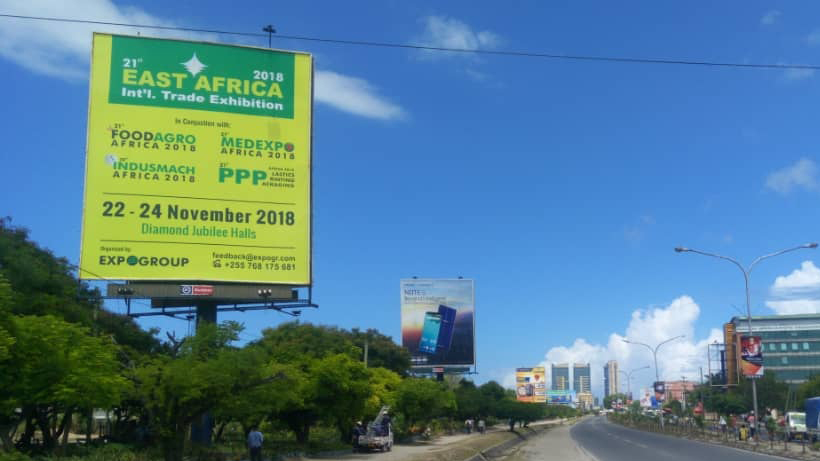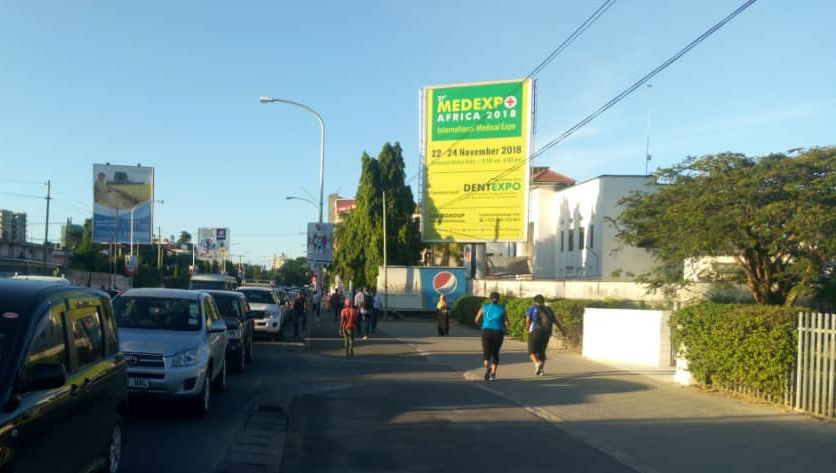 Expogroup Worldwide announces another edition of MEDEXPO AFRICA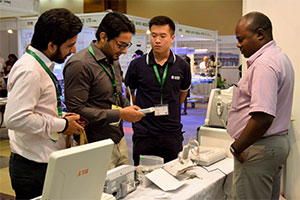 After an overwhelming response in 2016, Expogroup Worldwide announces another edition of MEDEXPO AFRICA, the leading healthcare trade fair in Africa. Taking place from 2 - 4 June, 2017 at the Kenyatta International Convention Centre, Nairobi, Kenya and 22 - 24 August at the Mlimani Conference Centre (MCC), Dar es Salaam, Tanzania, the event brings together more than 5000 healthcare professionals with 400 of the world's leading healthcare suppliers, manufacturers and service providers, all under one roof, to find the latest industry innovations, network and do business.
MEDEXPO AFRICA 2017 is the perfect opportunity to discover first-hand, the best the healthcare industry has to offer, and to expand business associations with personal, one-on-one connections. Meet with global healthcare industry leaders and do business within the region at East Africa's largest B2B networking platform.
There are not many industries that have displayed as much steady growth as the medical sector, and Africa is among the world's most promising markets. Experts believe that its current market volume of around US$ 2.8 billion will rise to US$ 7 billion by 2024, with annual growth rates of over 15 per cent. Companies wanting to benefit from this development will find that MEDEXPO AFRICA – the region's leading international medical trade fair, for the last two decades – is a top platform for accessing this booming market.
MEDEXPO KENYA: 02nd – 04th June – KICC, Nairobi, Kenya
MEDEXPO TANZANIA: 22nd – 24th August – MCC, Dar es Salaam, Tanzania
For more information on these events please visit: https://medexpo.expogr.com/
Strong exhibitor line-up and comprehensive medical products, equipment and machinery showcase at the 20th MEDEXPO AFRICA 2017
The African health care market is booming. With 20th MEDEXPO fair that will take place in Dar-Es-Salaam, Tanzania from 12th-14th July 2017 at the Mlimani Conference Centre. It is oriented to meet the increasing demand for medical manufacturing products, equipment, machinery, services, and solutions. The event profiles exhibitors from over 20 countries, innovative solutions from leading market players for the benefit of medical technology buyers from across the East African region.
Africa is one of the most promising growth markets for medical technology anywhere in the world. The backlog demand is huge and exceeds investments. While public money is being invested predominantly in basic medical services, private hospitals and laboratories is the driving force behind modernizing the sector. They are investing in high-end technology to satisfy the rising demand.
The product portfolio at the MEDEXPO will comprise of innovations from around the world that specifically target the African healthcare market. The exhibitors will present the entire spectrum of products from all relevant sectors: medical technology, hospital, health center and clinic equipment, rehabilitation, equipment for pharmacies and dispensaries, and furniture. Participating countries will include China, Malaysia, United Kingdom, Russia Turkey, France, Ethiopia and many others alongside numerous domestic exhibitors.
According to medical professionals in the region: "It will be the most important and relevant trade exhibition for industry professionals in the medical field to source for products, meet new business contacts, build partnerships, and keep abreast of industry trends and developments.
MEDEXPO's continuous and growing importance to the region and beyond has been demonstrated by the success of exhibitions in the past which continues to attract an increasing number of companies looking to do business in Africa as the region's healthcare sector continues on a robust growth path.
For more details view:
www.medexpo.expogr.com
Email: