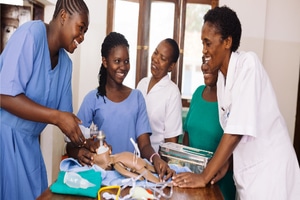 Posted on :Tuesday , 24th August 2021
The GLOBAL FUND has praised President Samia Suluhu Hassan's leadership, offering to issue a total of 906 million US dollars (2.09 trillion/-) for health-care spending, including the battle against the Covid-19 epidemic.
The funds include 794 million US dollars (about 1.8 trillion/-) that will be distributed between 2021 and 2023 to complement the battle against HIV/AIDS, tuberculosis (TB), and malaria, as well as to guarantee a better, safer, and more equal future for all.
The remaining 112 million US dollars, or 258 billion/-, will be used to help the country's efforts to combat Covid-19 by purchasing Personal Protective Equipment (PPEs), oxygen cylinders, and upgrading associated infrastructure. This was said by Mr. Peter Sands, Director General of the Global Fund, during a video call with President Samia.
According to a statement published by Tanzania's Director of Presidential Communications, Mr Jaffar Haniu, during their meetings, the two addressed a number of topics concerning Tanzania's and the Fund's collaboration.
"Mr Sands promised President Samia of ongoing collaboration in ensuring all objectives are met, particularly in the health sector," according to a portion of the statement.
He went on to thank President Samia for taking up the role, and he also congratulated Tanzania for ranking fifth on a list of nations that have received clean certifications for using money provided by the Fund.
He claims that the Fund would work with Tanzania to offer public information about the Covid-19 epidemic. In another development, Mr. Sands praised President Samia for creating a favorable climate and reducing tax obstacles, allowing Non-Governmental Organizations to serve a wider number of people at the same time.
President Samia, for her part, praised the Global Fund for assisting the country since 2002 in decreasing HIV/Aids mortality, particularly via the use of antiretroviral medicines (often referred to as ARV), as well as conducting a number of research to improve the health system.
President Samia also congratulated the Fund on its twentieth anniversary, as well as on effective monitoring on providing an enhanced health service, guaranteeing Tanzania's ongoing collaboration.
In 2018, the Global Fund and Tanzanian health practitioners signed a funding deal totaling 525 million US dollars (equal to 1.2 trillion/-) to supplement efforts to eliminate HIV, tuberculosis, and malaria epidemics between 2018 and 2020.
The funding intended to reduce Tanzania's average malaria prevalence to less than 1% by 2020, as well as the incidence rate of tuberculosis (TB) by 20% and TB mortality by 35% by 2020.
The investments also aimed to expand HIV service coverage in order to meet the 90-90-90 fast-track treatment objectives, which require 90% of individuals living with HIV to know their status.